Live-Cell-Imaging Core Lab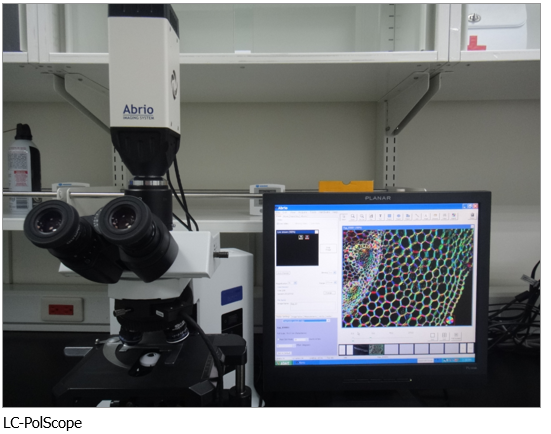 Committee:
Research Assistant
Live-cell imaging has become one of the most important techniques in modern cell biology. The Live-Cell-Imaging Core Laboratory of the Institute of Plant and Microbial Biology provides users with on-site tutorial services and technical supports on light and fluorescence microscopy, Delta Vision microscopy, confocal microscopy and laser microdissection and capturing technology.
Facilities:
Confocal Laser Scanning Microscope::

1. LEICA STELLARIS 8 (倒立, 2020), Diode 405nm; WHITE LIGHT LASER 440-790nm
2. Zeiss LSM 510 Meta (upright, 2007), Diode 405nm; Argon 458/477/488/514 nm; HeNe/543 nm; HeNe/633 nm
3.Zeiss LSM880 with Airyscan (upright, 2015) , Diode 405nm; Argon 458//488/514 nm; DPSS 561 nm; HeNe/633 nm

Laser Microdissection and Pressure Catapulting System (Zeiss Palm, 2008)
Cell Imaging System of High Resolution, Delta Vision Core (Applied Precision Inc. Delta Vision Core, 2010)
Polarizing Microscope and Abrio Imaging System(LC-PolScope, 2007)
Stereo Fluorescent Microscope (Zeiss Lumar V12, 2005)
Inverted Fluorescent Microscope (Zeiss Axiovert S100, 1999)
Upright Fluorescent Microscope (Zeiss Axio Imager Z1, 2005)
Quantitative Fluorescence and Bioluminescence Imaging(XENOGEN IVIS System, 2006)
Workstation with MetaMorph & Imaris image analysis.
Live-Cell-Imaging Core Lab (IPMB)
Operation manuals::
LEICA STELLARIS 8 (倒立, 2020), Diode 405nm; WHITE LIGHT LASER 440-790nm
ZEISS LSM 880
LSM880
Fluorescence probes for live cell imaging
GE DeltaVision DeltaVision 2019
LSM 510 META
Upright ZEISS AxioImager Z1
Laser Microdissection and Pressure Catapulting System