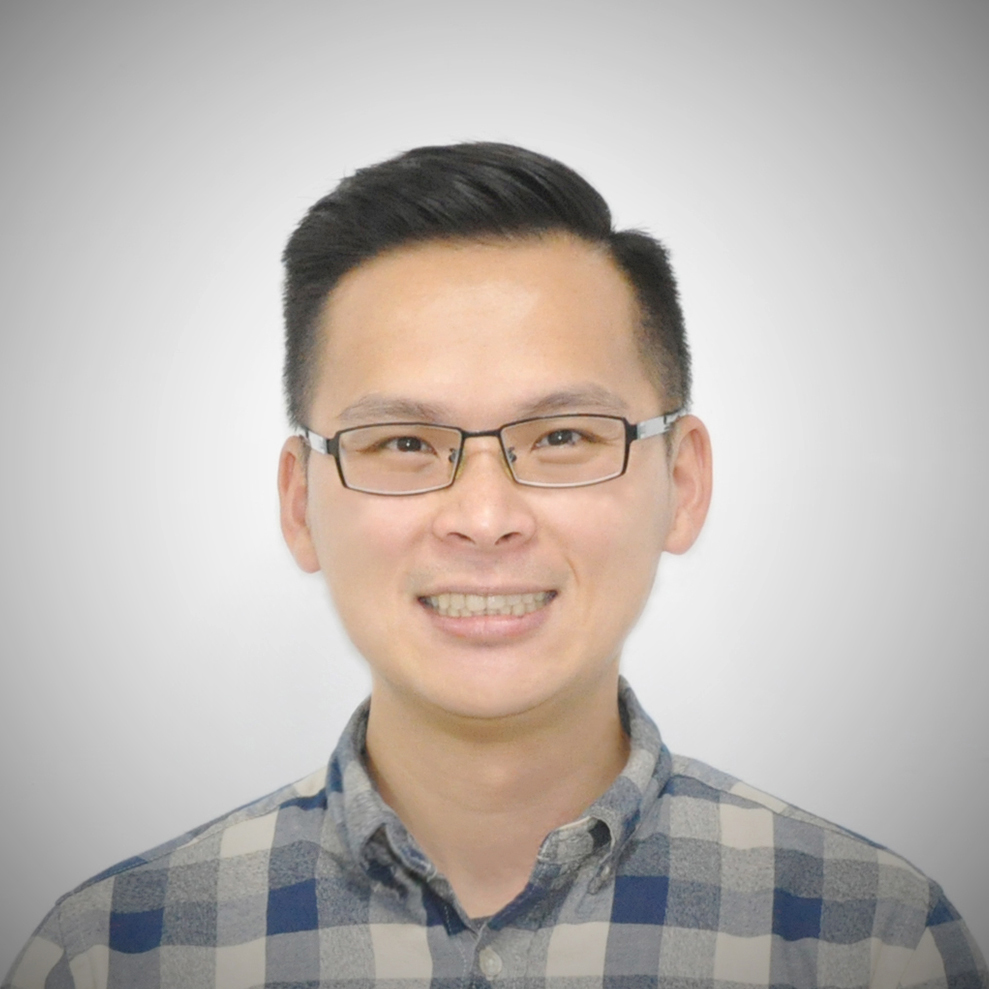 Wu, Chih-Hang (吳志航)
Assistant Research Fellow
2020- Assistant Research Fellow, IPMB, Academia Sinica, Taiwan
2016-2019 Postdoctoral Scientist, The Sainsbury Laboratory, UK
2016 Ph.D., The Sainsbury Laboratory, University of East Anglia, UK
2011-2012 Research Assistant, National Taiwan University, Taiwan
2008-2011 Research Assistant, IPMB, Academia Sinica, Taiwan
2007 M.S., Plant Pathology and Microbiology, National Taiwan University, Taiwan
2005 B.S., Plant Pathology and Microbiology, National Taiwan University, Taiwan
+886-2-2787-1142(Lab)
+886-2-2787-1141(Office)
wuchh@gate.sinica.edu.tw
Plant Immunity; Molecular Plant-microbe Interactions
The plant innate immune system
Plants are continuously exposed to diverse microorganisms in the environment, many of which can invade plants and cause diseases. Some of these plant pathogenic microorganisms infect economically important crops, leading to huge yield loss in agriculture. To fend off the invading pathogens, plants have developed an immune system to detect pathogens and restrict pathogen growth. This includes using the cell surface PRRs (Pattern Recognition Receptors) and intracellular NLRs (Nucleotide-binding domain Leucine-rich repeat Receptors) to recognize pathogen molecules and then activate immune signaling. Many of these immune receptors function as disease resistance (R) proteins that protect plants from pathogen invasion and are very useful in agriculture.
PRRs localize at the plasma membrane and detect extracellular PAMPs (Pathogen-Associated Molecular Patterns), whereas NLRs are intracellular proteins that detect the effector proteins secreted from pathogens. Upon the recognition of pathogen molecules, these immune receptors activate downstream signaling cascades, leading to PRR-mediated immunity and NLR-mediated immunity. Some NLRs work as functional singletons that detect pathogens and activate immune response on their own; however, some NLRs function together, in which one of them is a sensor NLR that detect pathogen and the other one is a helper NLR that is essential for immune signaling.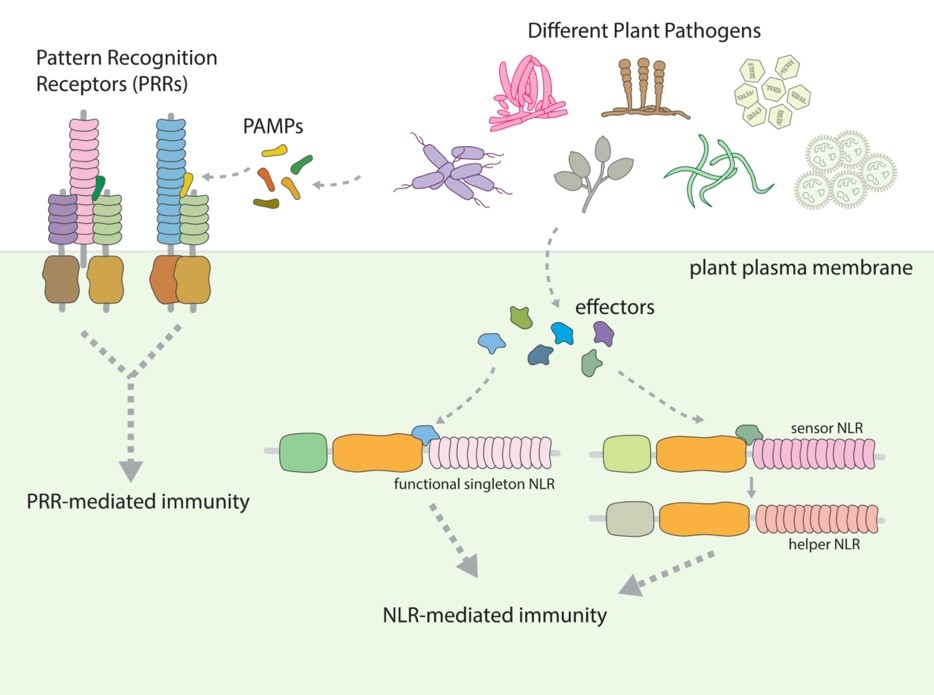 The NRC network of solanaceous plants
Recent discoveries showed that NLRs can work as in functional singletons, pairs and networks. In the solanaceous plants, the NRC network that confers resistance to various pathogens is composed of several sensor NLRs that detect different pathogen proteins, and three major helper NLRs (NRC2, NRC3 and NRC4) that are functionally redundant but display distinct specificities toward different sensor NLRs. Furthermore, the NRC family and NRC-dependent sensor NLRs are phylogenetically clustered into a well-supported superclade. These results reveal a complex genetic network beyond the 'gene-for-gene' hypothesis, and link immune signaling to the history of NLR gene evolution.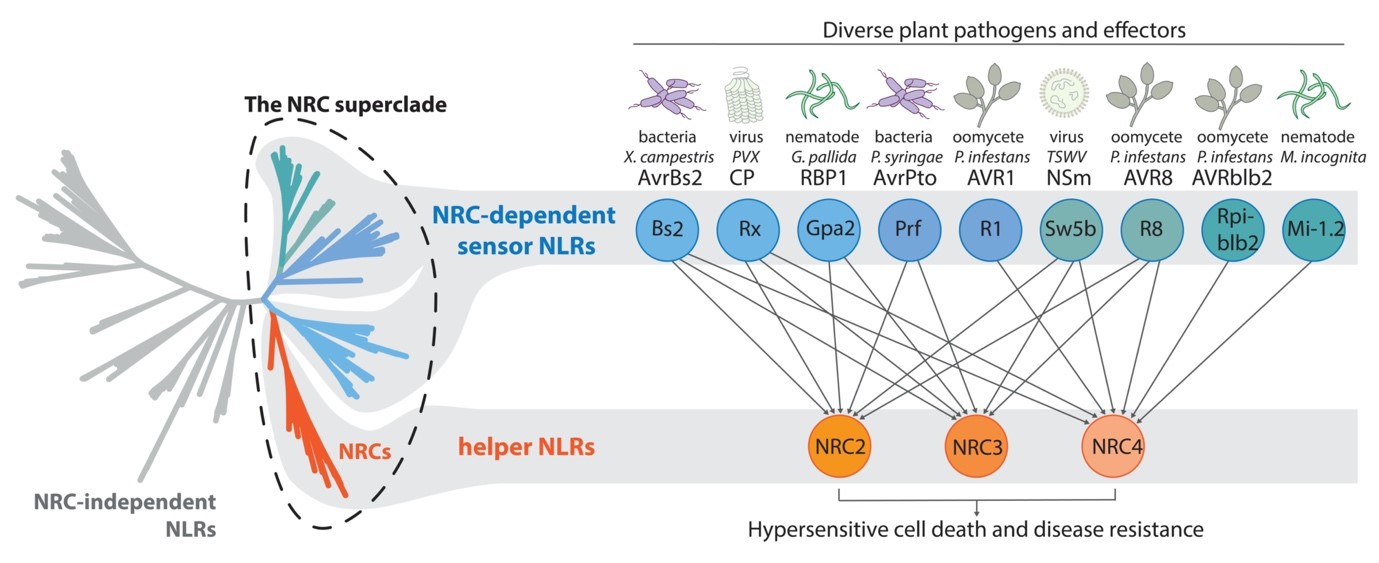 Our research center on the evolutionary and functional dynamics of the plant immunity. We hope to address the following three questions about the NRC network:
How do helper-sensor NLR proteins function together?
How does the NRC network specialize in different plant tissues?
How did the NRC network evolve in different plant lineages?