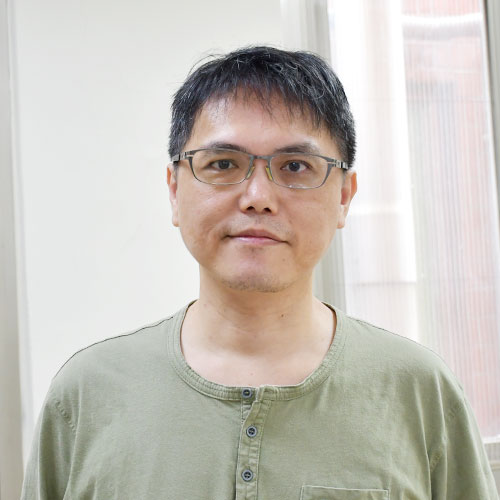 Lin, Wen-Dar (林文鐽)
Associate Research Specialist
+886-2-2787-1057(Office)
wdlin@gate.sinica.edu.tw
Bioinformatics Core Facility
Dr. Lin is responsible to operate the bioinformatics core and provide consulting of bioinformatics analyses. His specialities include descrete mathematics, algorithm, group testing and bioinformatics. His recent research accomplishments include co-expression network computation, NGS data analysis and Gene Ontology computation.
Selected publication list
Kanno T, Venhuizen P, Wen TN, Lin WD, Chiou P, Kalyna M, Matzke AJM, Matzke M (2018) PRP4KA, a Putative Spliceosomal Protein Kinase, Is Important for Alternative Splicing and Development in Arabidopsis thaliana. Genetics. 210(4):1267-1285.
Salazar-Henao JE, Lin WD, Schmidt W (2016) Discriminative gene co-expression network analysis uncovers novel modules involved in the formation of phosphate deficiency-induced root hairs in Arabidopsis. Sci Rep 6:26820.
Kanno T, Lin WD, Fu JL, Wu MT, Yang HW, Lin SS, Matzke AJ, Matzke M (2016) Identification of Coilin Mutants in a Screen for Enhanced Expression of an Alternatively Spliced GFP Reporter Gene in Arabidopsis thaliana. Genetics 203(4):1709-20.
Sasaki T, Kanno T, Liang SC, Chen PY, Liao WW, Lin WD, Matzke AJ, Matzke M (2015) An Rtf2 domain-containing protein influences pre-mRNA splicing and is essential for embryonic development in Arabidopsis thaliana. Genetics 200(2):523-35.
Chen YT, Shen CH, Lin WD, Chu HA, Huang BL, Kuo CI, Yeh KW, Huang LC, Chang IF (2013) Small RNAs of Sequoia sempervirens during rejuvenation and phase change. Plant Biology 15(1):27-36.
Lan P, Li WF, Lin WD, Santi S, Schmidt W (2013) Mapping Gene Activity of Arabidopsis Root Hairs. Genome Biology 14:R67.
Sharma S, Lin WD, Villamor JG, Verslues PE (2012) Divergent low water potential response in Arabidopsis thaliana accessions Landsberg erecta and Shahdara. Plant Cell Environ 36(5):994-1008.
Chen YC, Chen YC, Lin WD, Hsiao CD, Chiu HW, Ho JM (2012) Bio301: A Web-Based EST Annotation Pipeline That Facilitates Functional Comparison Studies. ISRN Bioinformatics 2012:139842.
Lin WD, Liao YY, Yang TJ, Pan CY, Buckhout TJ, Schmidt W (2011) Coexpression-Based Clustering of Arabidopsis Root Genes Predicts Functional Modules in Early Phosphate Deficiency Signaling. Plant Physiology 155(3):1383-402.