[2020/01/16-17]

MiTalk 2020 @ NTU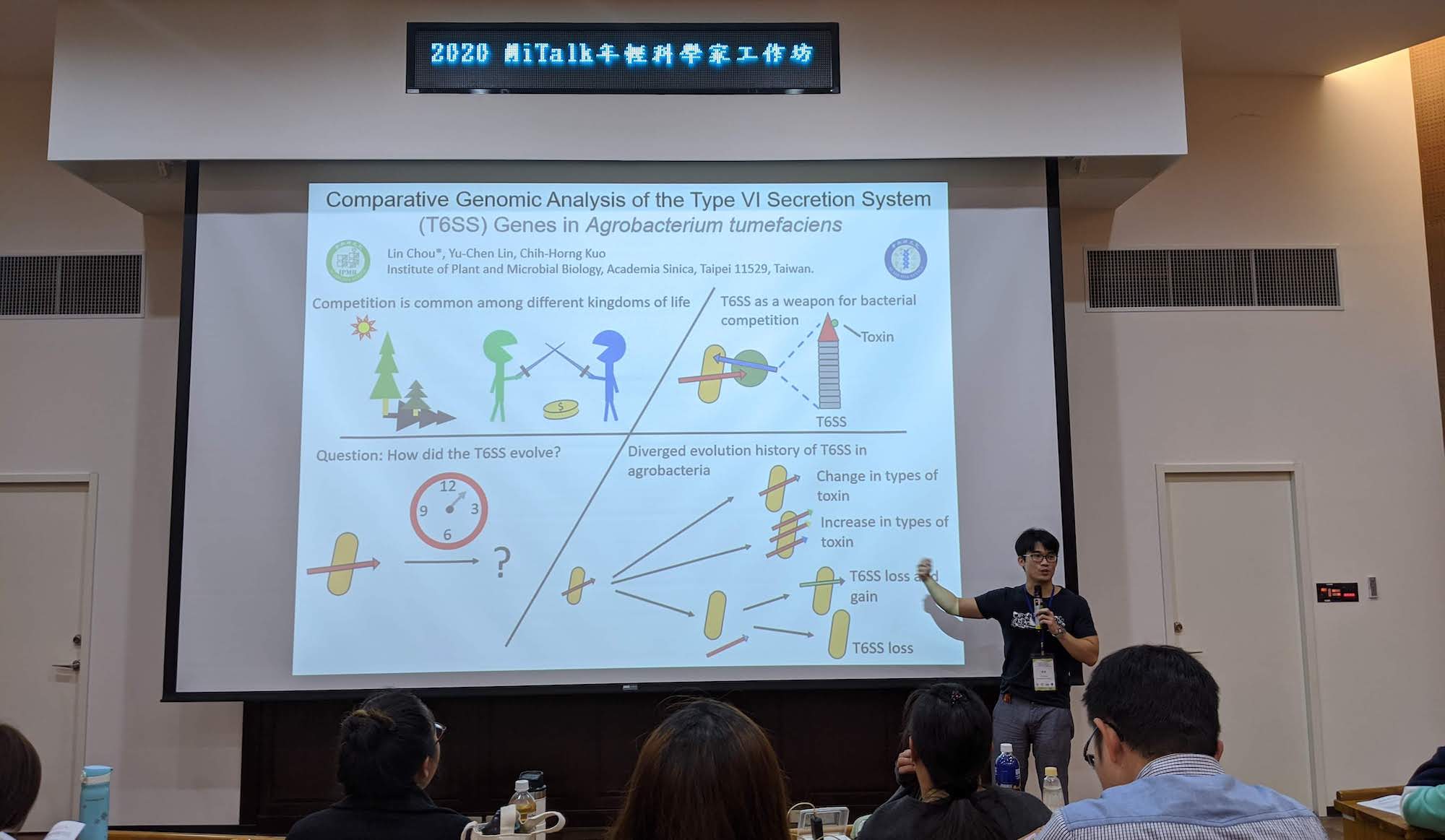 Lin Chou (周林) was selected for a flash talk to present his poster.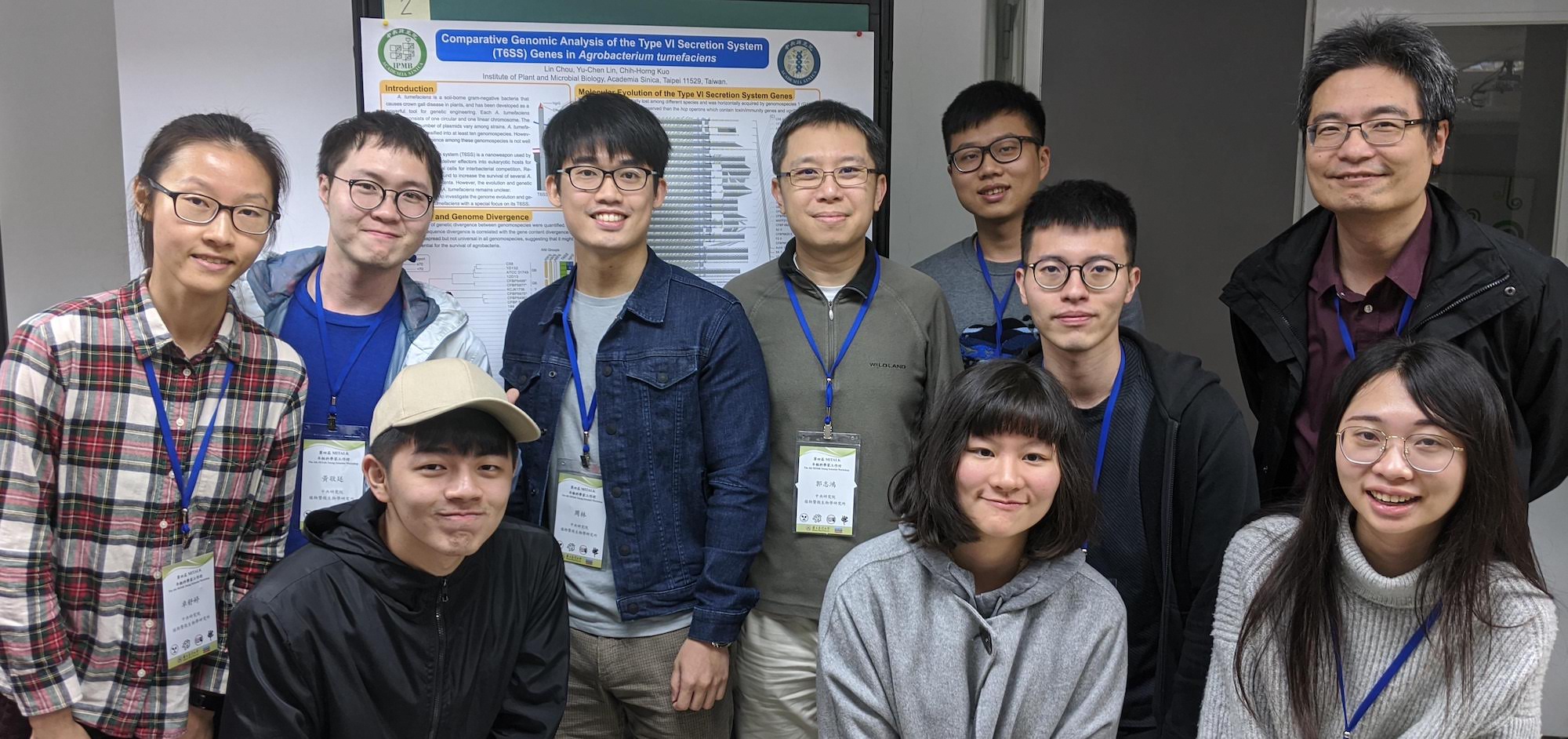 Group photo in front of the poster by Lin Chou (周林); with Dr. Chun-Yao Chen (陳俊堯).

Group photo in front of the poster by Ho-Lin Chung (鍾鶴林).
[2019/12/23]

PEM Joint Lunch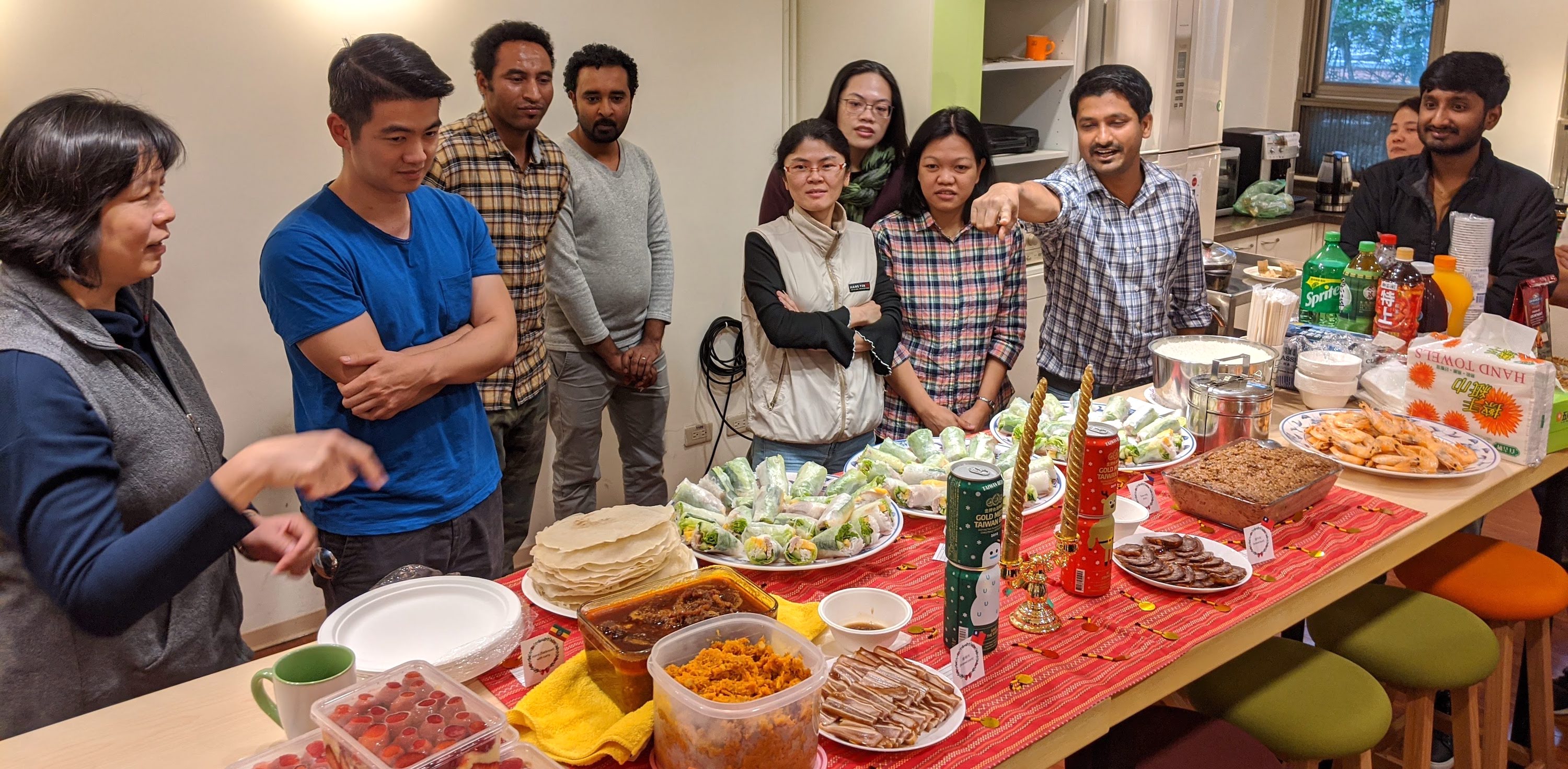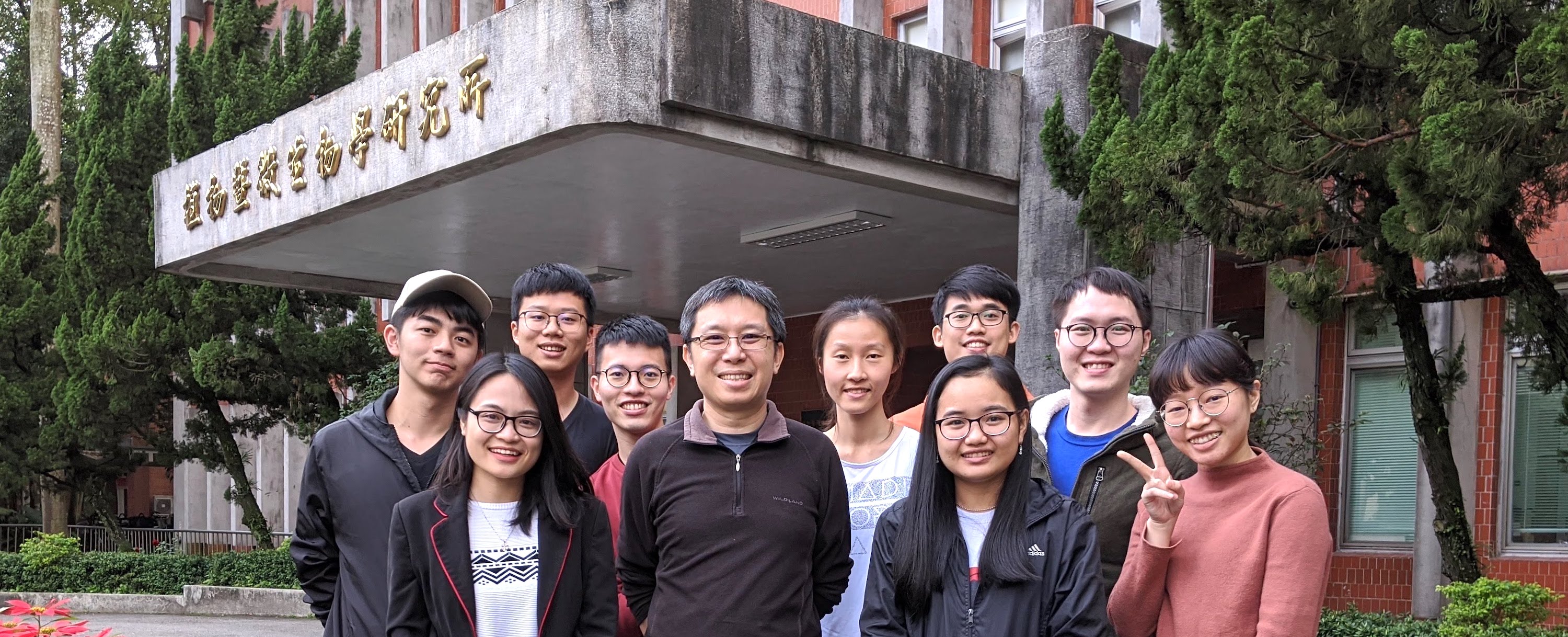 Four research groups in the Plant and Environmental Microbiology (PEM) discipline of our institute, including those led by Chuan Ku (顧銓), Erh-Min Lai (賴爾珉), Lay-Sun Ma (馬麗珊), and us had a joint lunch after our regular journal club to celebrate the coming holidays. It is wonderful to have the warm friendship and delicious dishes from our Taiwanese and international team members!
[2019/12/20]

Joint Lab Party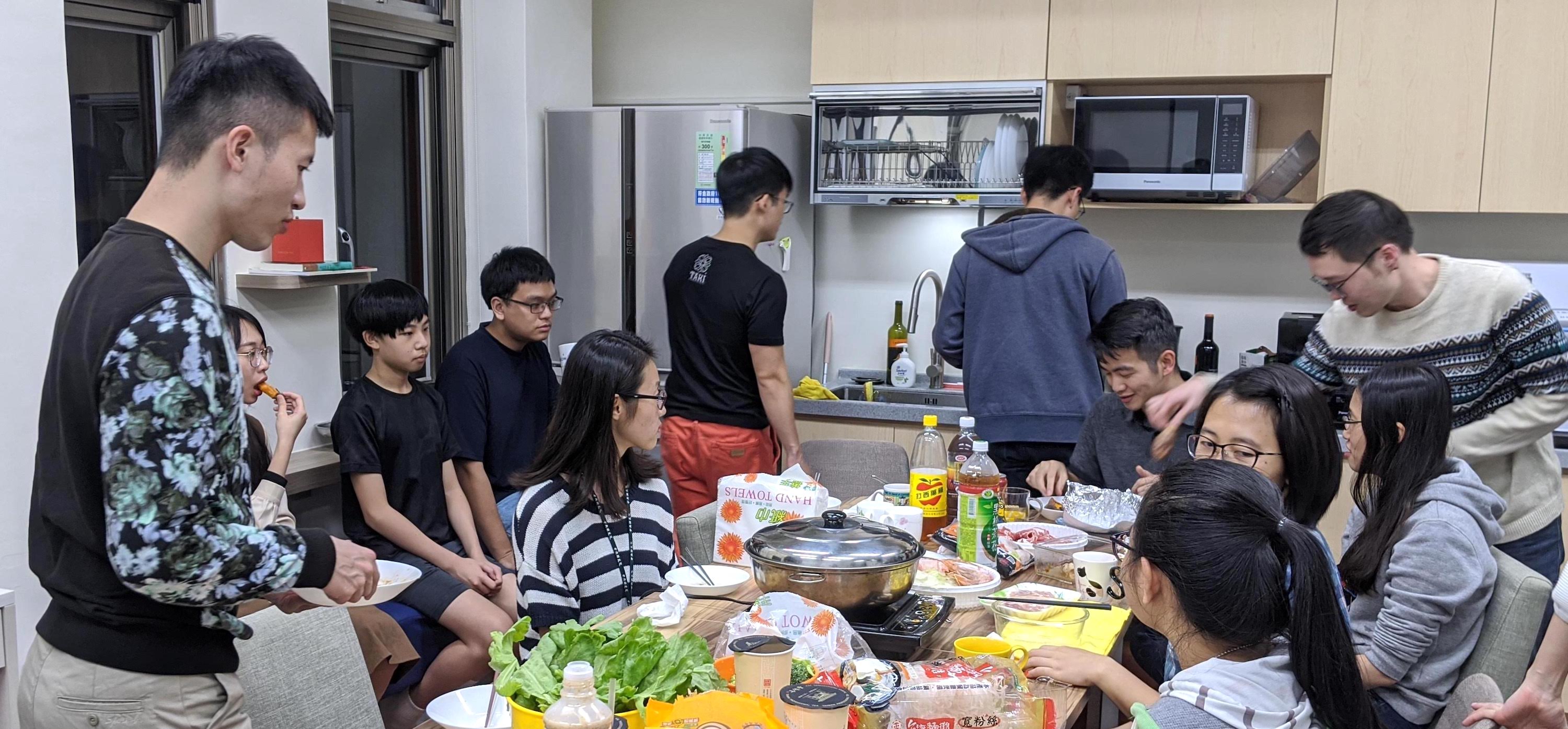 We and our next-door neighbors, the research group led by Chuan Ku (顧銓), had a joint lab party. A delightful evening with hot pots, video games, board games, and tons of laughs.
[2019/12/04]

International Conference on Mycoplasmas @ Pune, India

2019 International Conference on Human, Animal and Plant Mycoplasmas. Held by the National Centre for Microbial Resource (NCMR), National Centre for Cell Science (NCCS) in Pune, India.
[2019/11/23]

Prof. CY Lin Memorial Award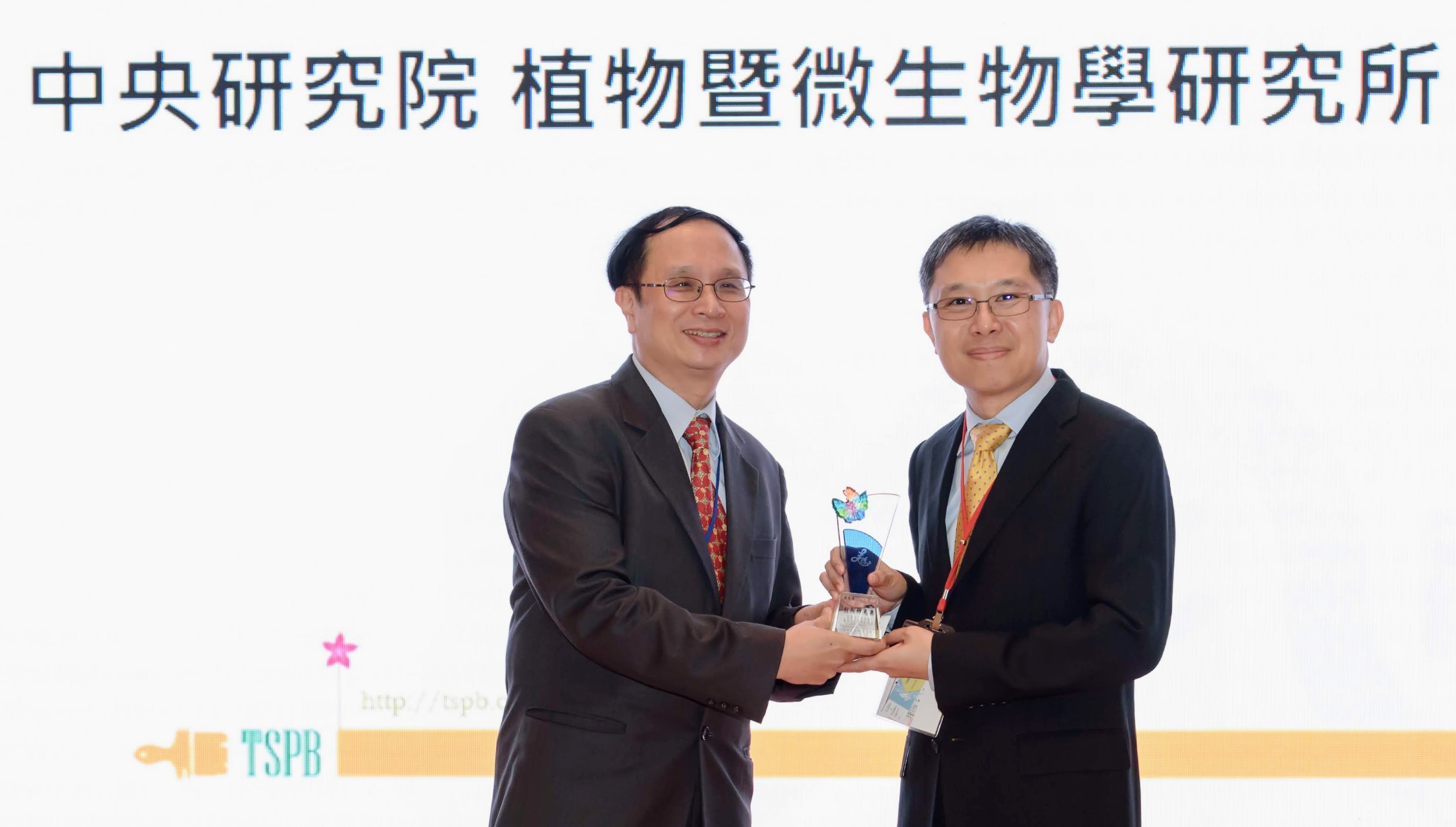 Chih-Horng Kuo (郭志鴻) received the Professor Chu-Yung Lin Memorial Award for Innovative Research Program (林秋榮教授植物科學創新研究獎) from Dr. Ming-Tsair Chan (詹明才) (President of the TSPB).
[2019/10/26]

Academia Sinica Open House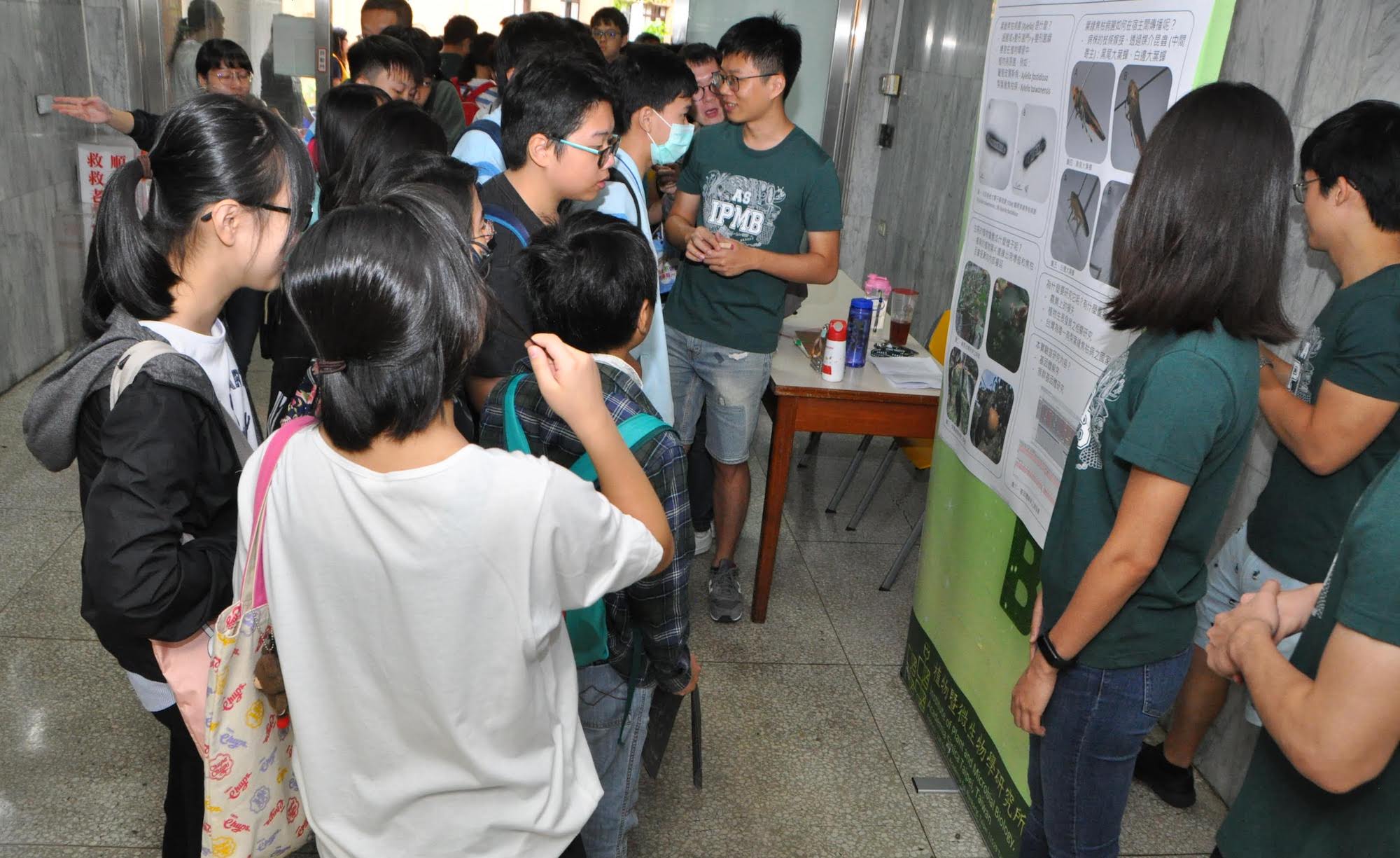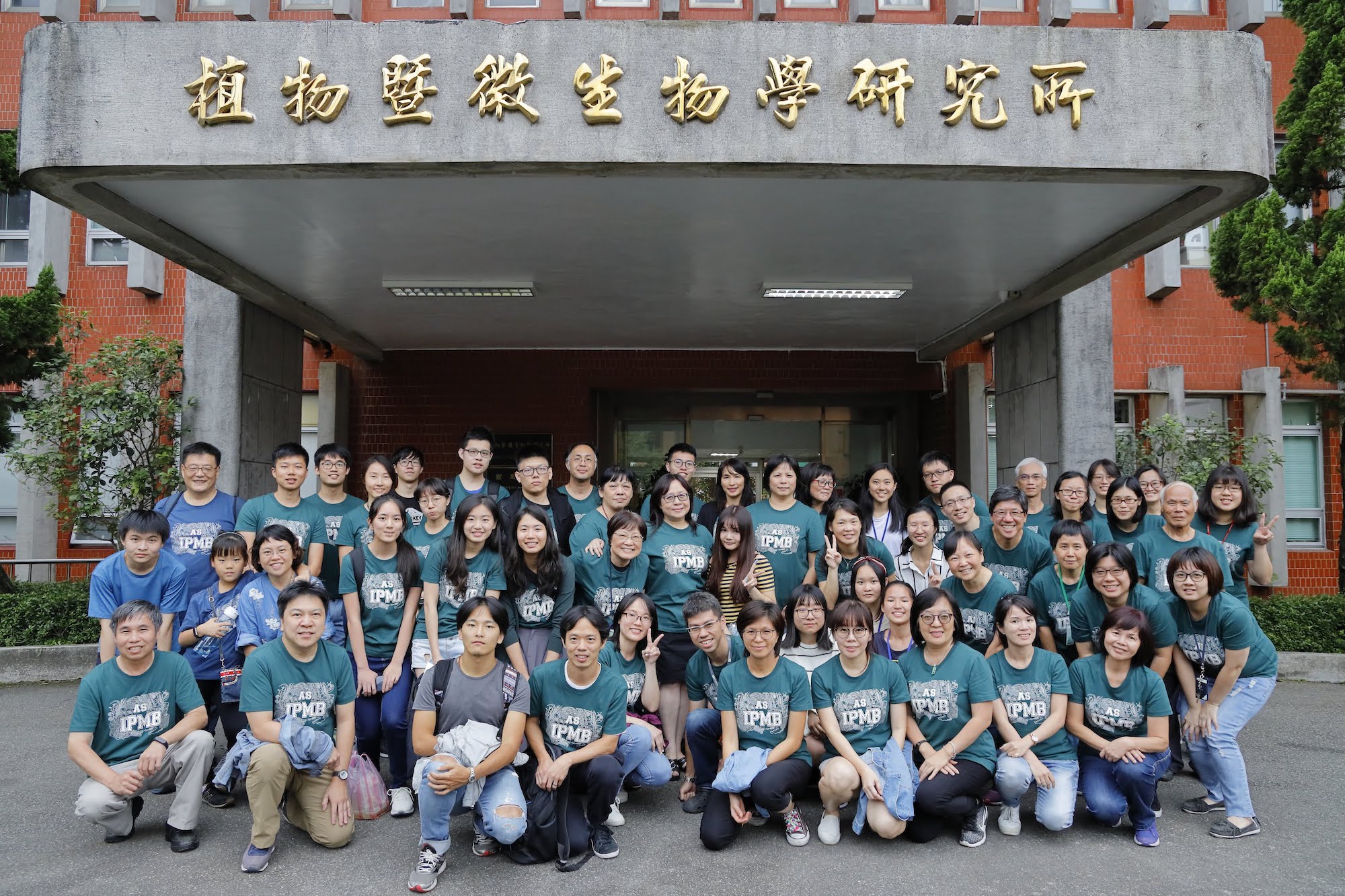 Our lab made a display about Xylella in Taiwan and our work on the population genomics of these pathogens.
[2019/09/18-21]

INRA @ Bordeaux, France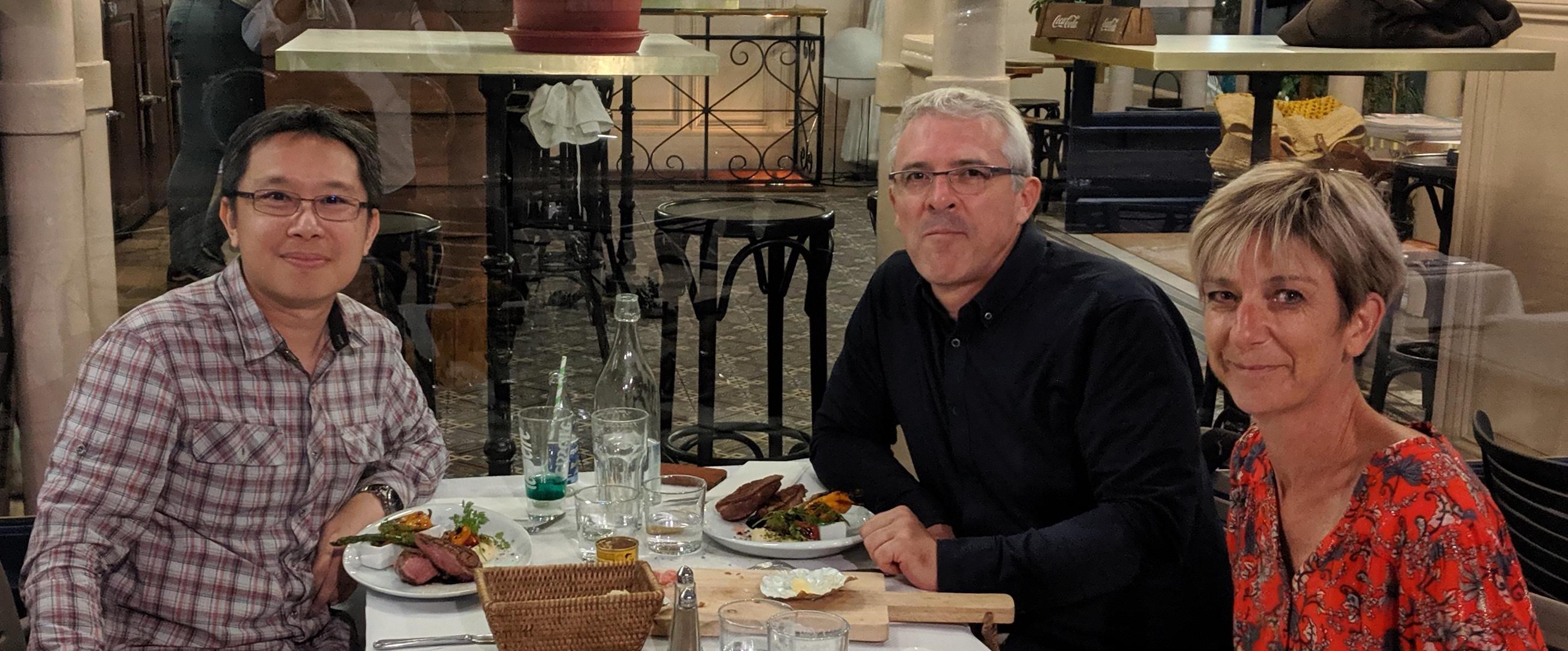 Chih-Horng Kuo (郭志鴻) visited Xavier Foissac. With Laure Béven.
[2019/09/14-18]

ENVT @ Toulouse, France

Chih-Horng Kuo (郭志鴻) visited Christine Citti. With Eric Baranowski, Xavier Nouvel, Emilie Dordet-Frisoni, and Xavier Foissac.
[2019/09/08-12]

IPWG 2019 @ Valencia, Spain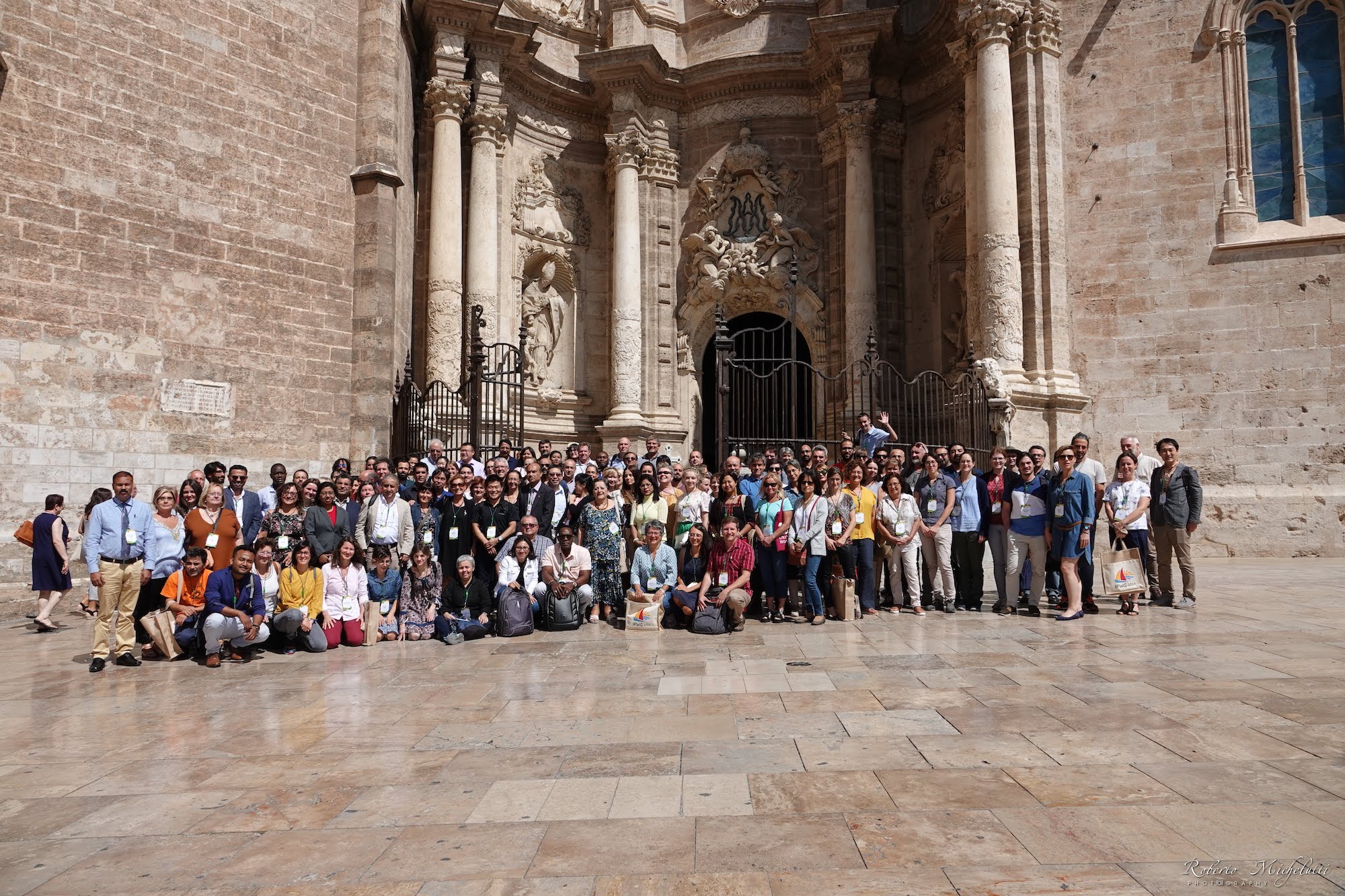 The 4th meeting of the International Phytoplasmologist Working Group (IPWG). Photo taken by Roberto Michelutti.
[2019/08/16]

Bacteriology 2019 @ Kaohsiung
[2019/08/12]

IPMB YIA Badminton Game

The Young Investigator Association (YIA) of our institue hold a series of summer sports games. Our lab participated in the badminton and volleyball games.
[2019/08/02]

Field Trip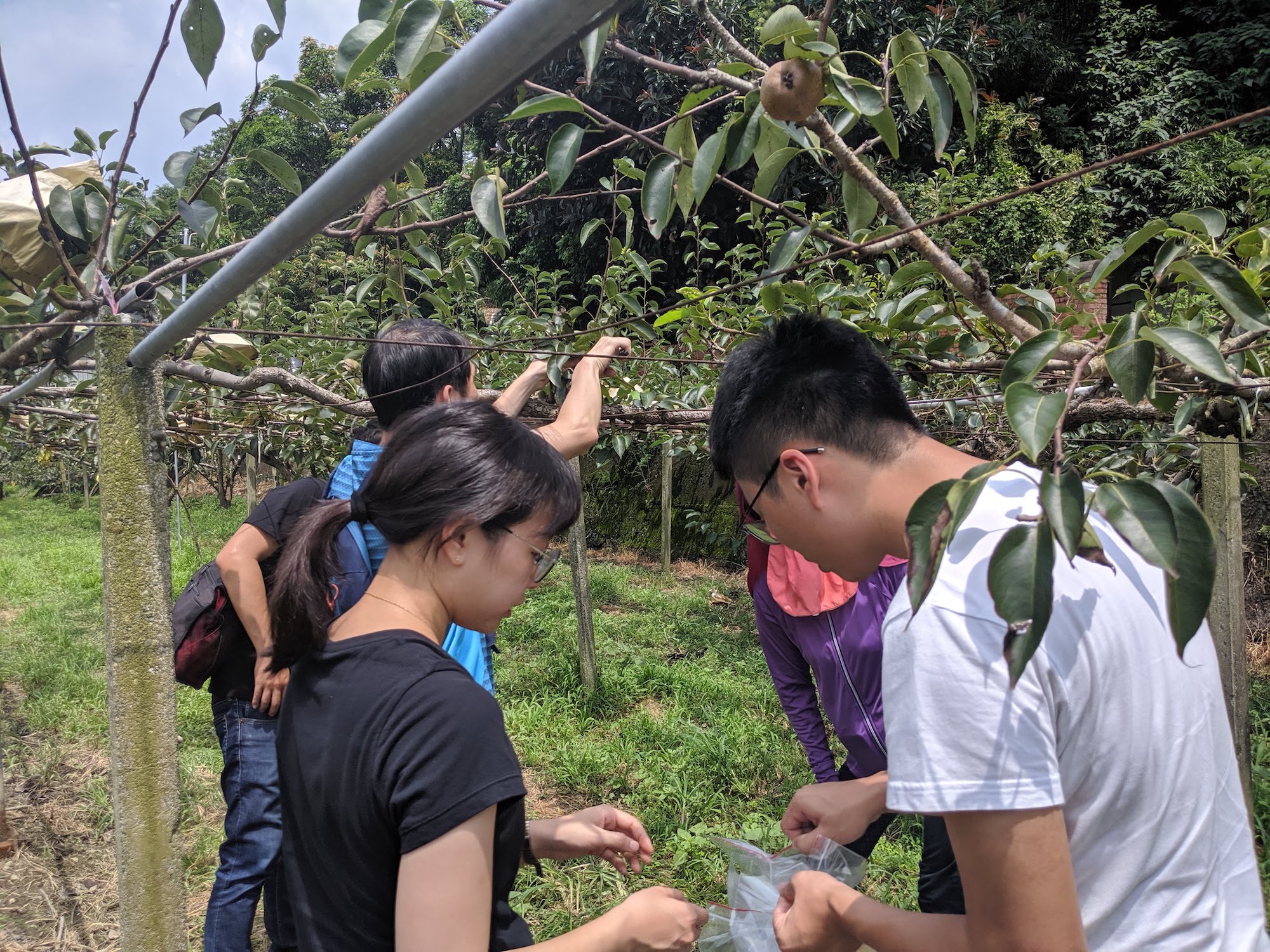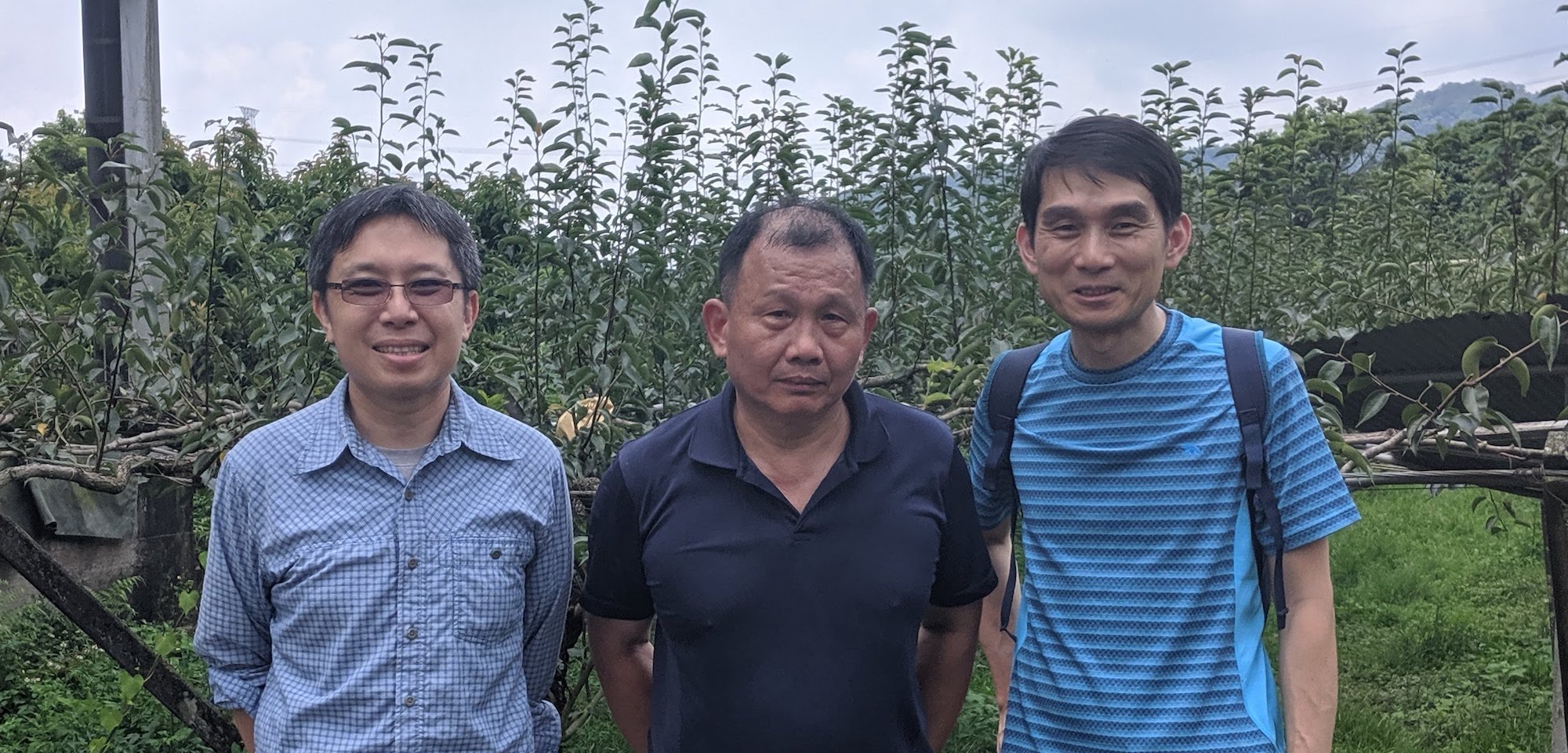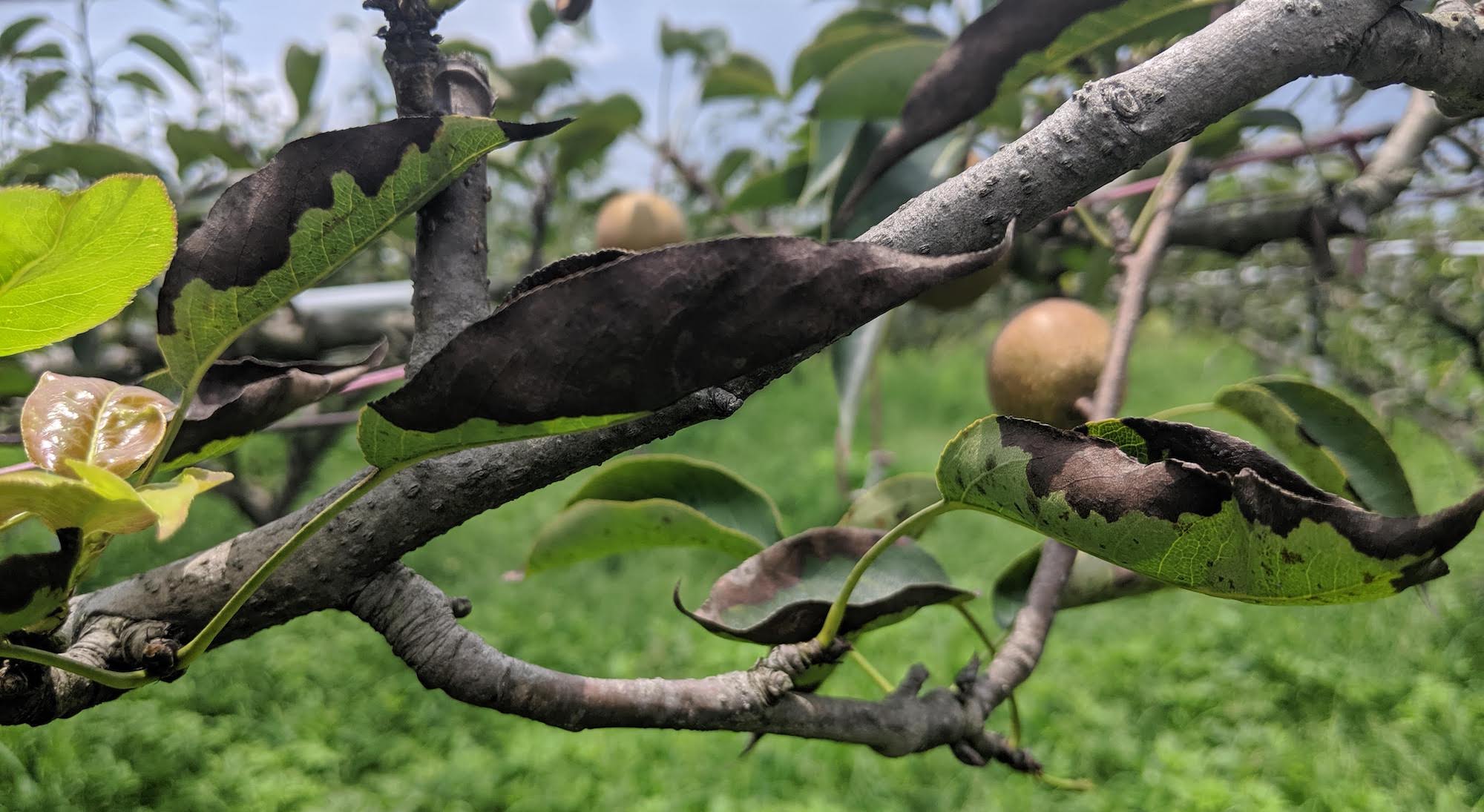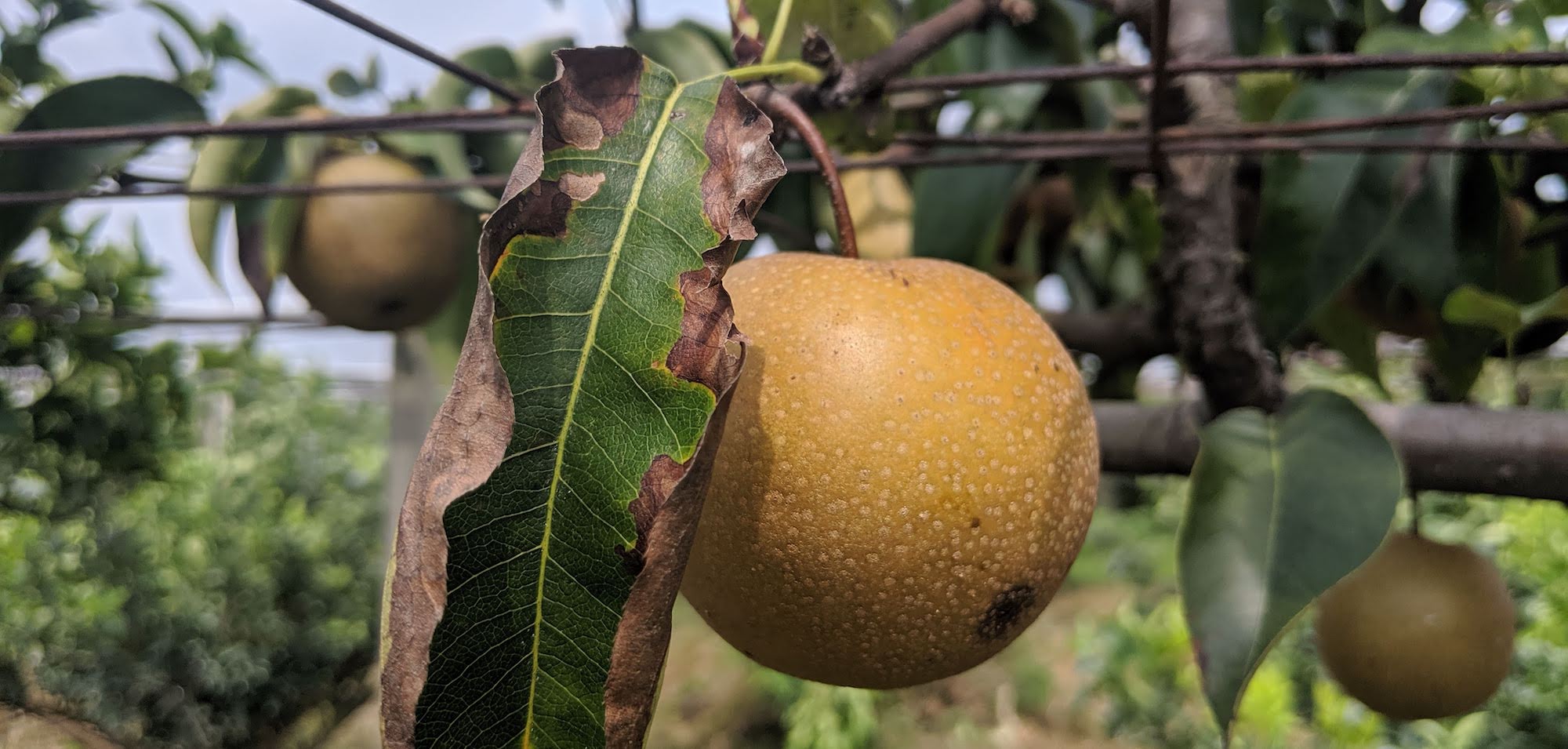 Collection of Xylella taiwanensis samples from infected pears. With Drs. Chiou-Chu Su (蘇秋竹) and Chi-Wei Tsai (蔡志偉).
[2019/07/25]

Lab Lunch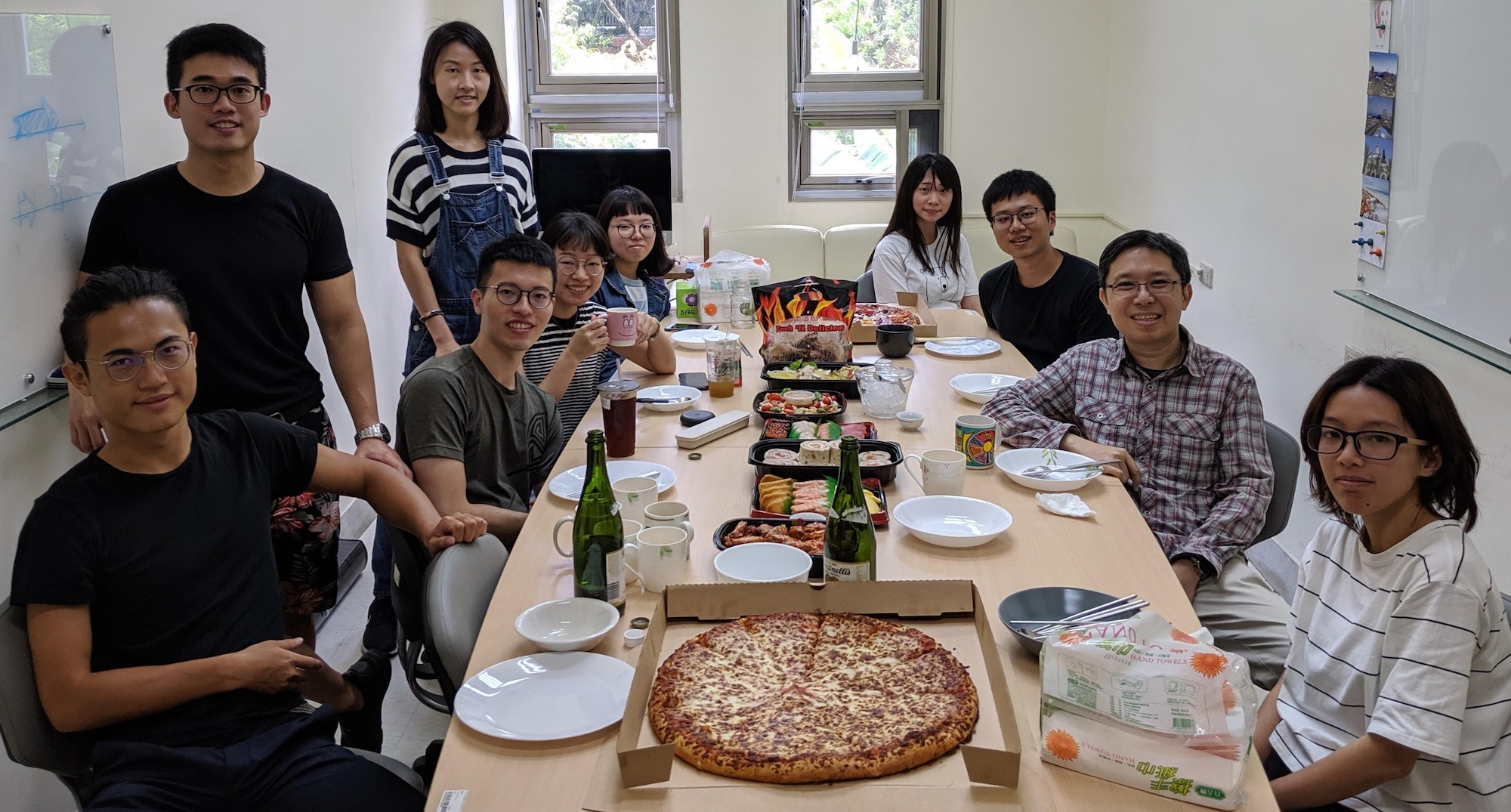 [2019/07/14-18]

IS-MPMI @ Glasgow, UK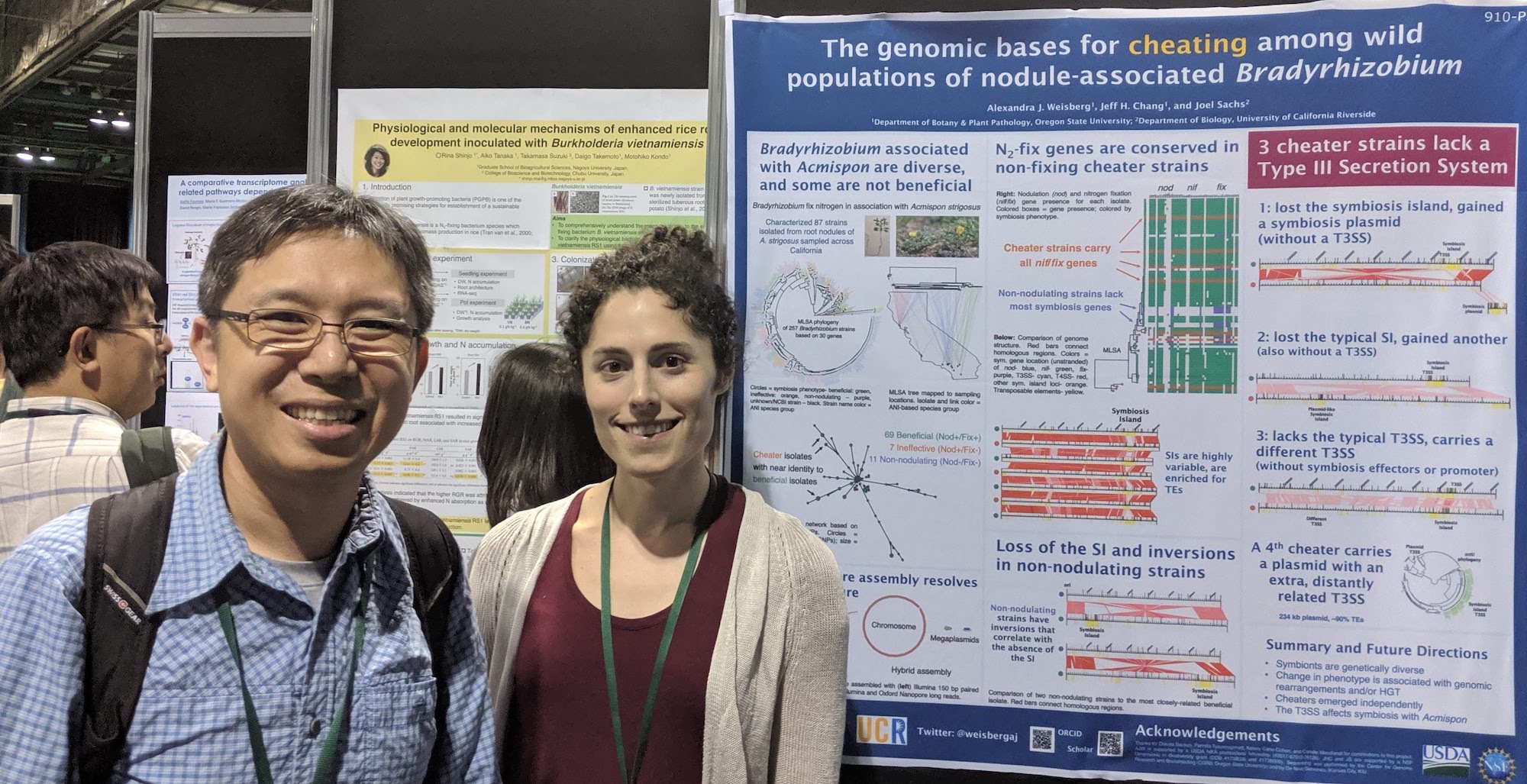 Chih-Horng Kuo (郭志鴻) with Alexandra Weisberg (Oregon State University, USA).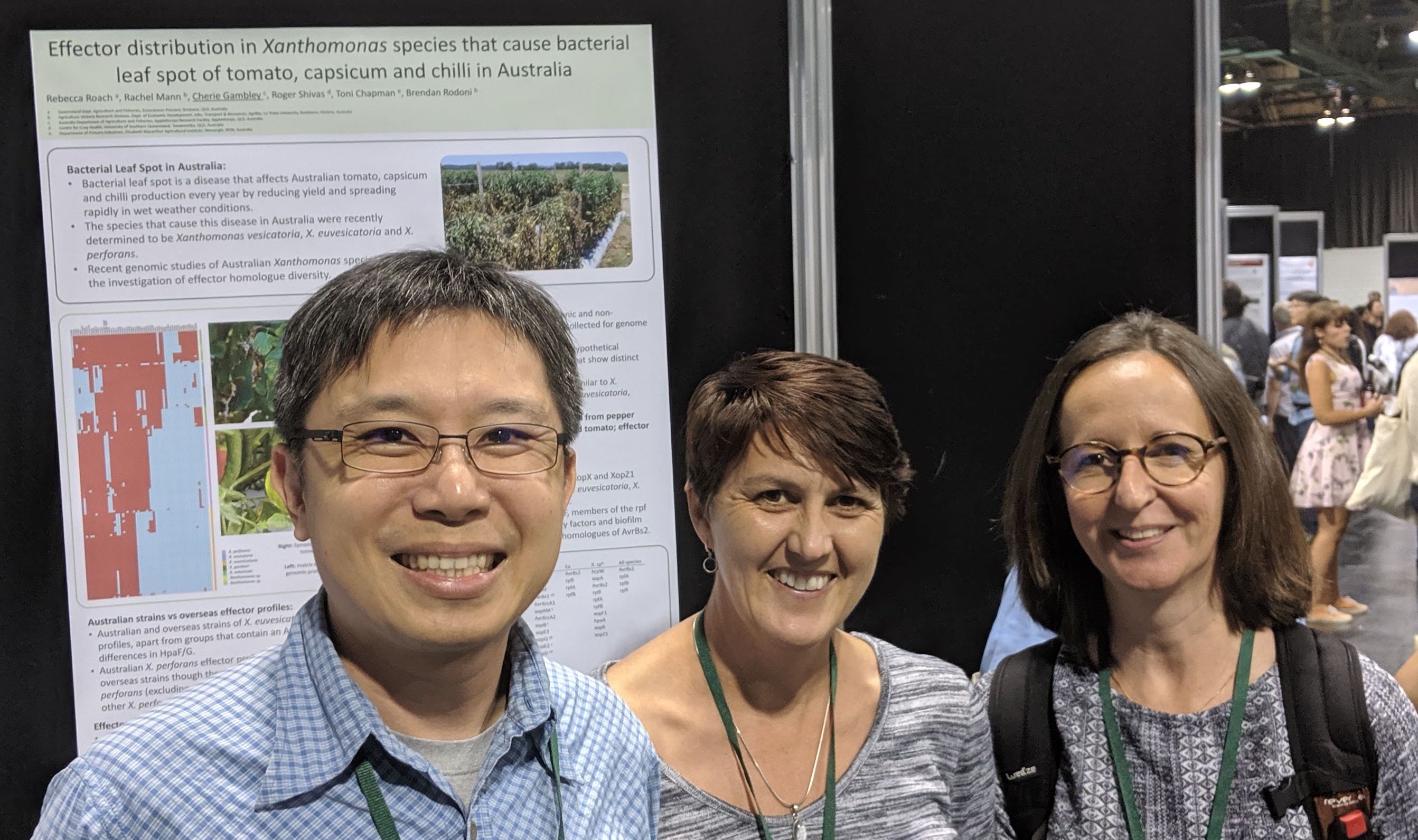 Chih-Horng Kuo (郭志鴻) with Cherie Gambley (Department of Agriculture and Fisheries, Queensland, Australia) and Sandrine Eveillard (INRA, France).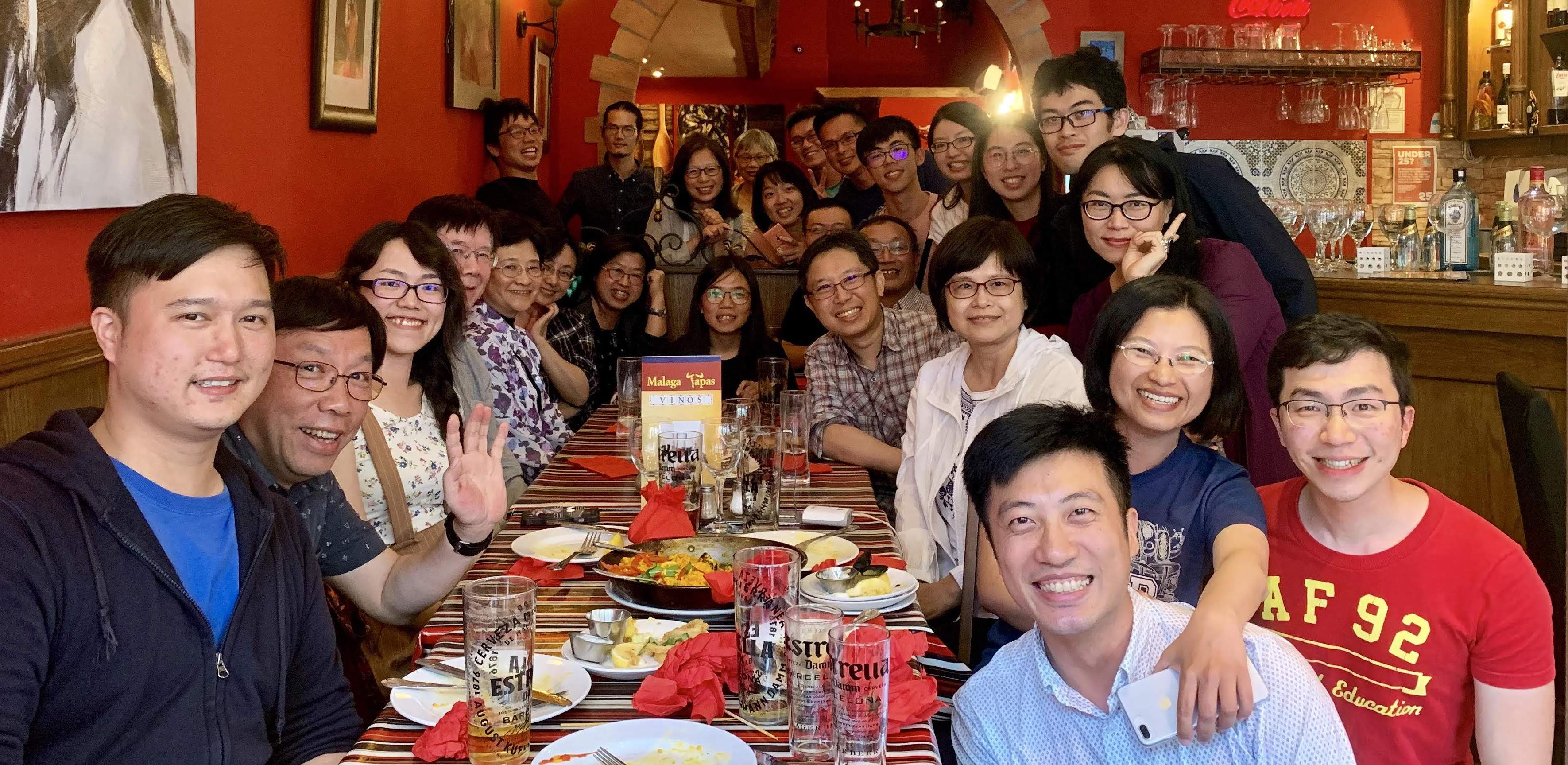 Dinner with the Taiwanese delegates attending the meeting.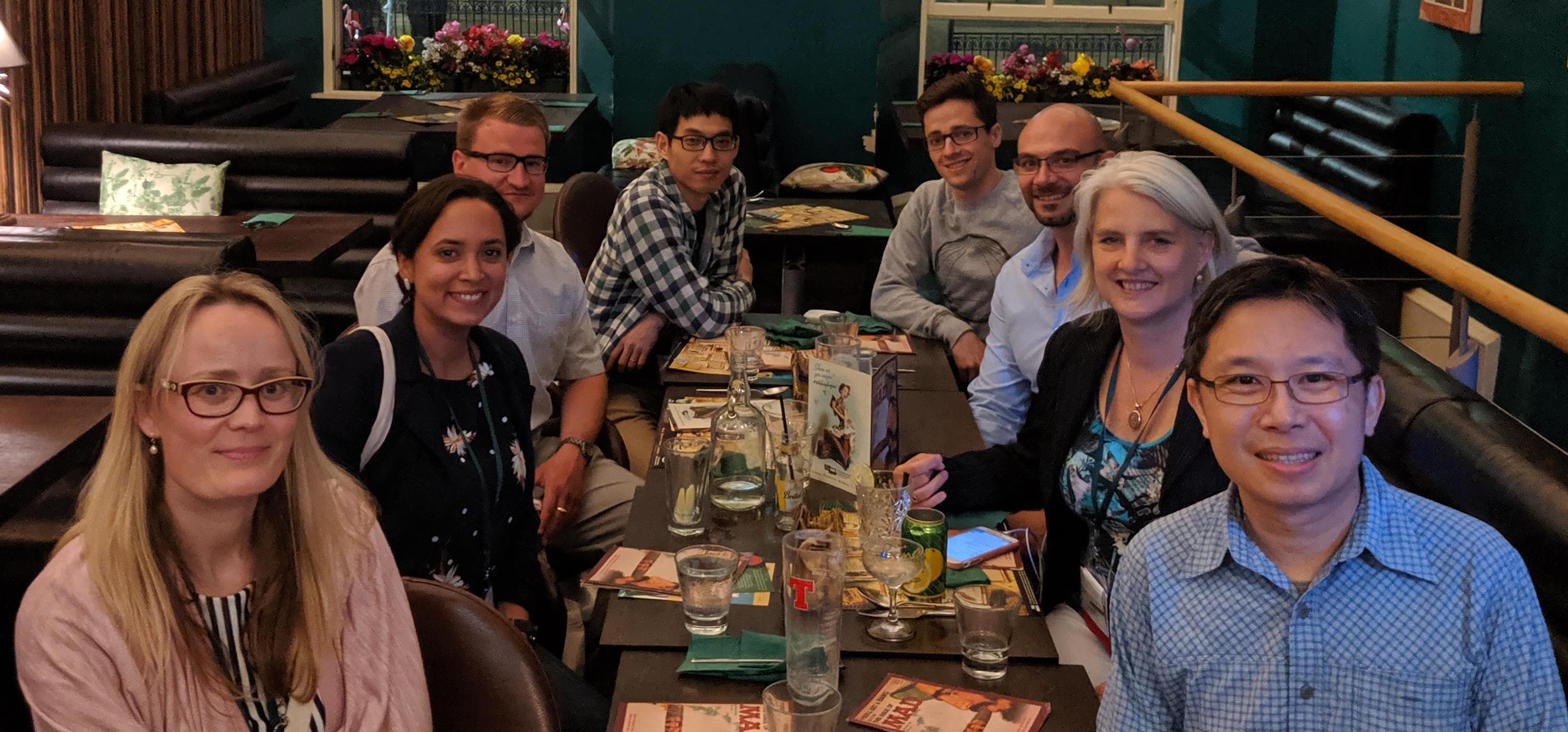 Dinner with the current and former members of Saskia Hogenhout's group.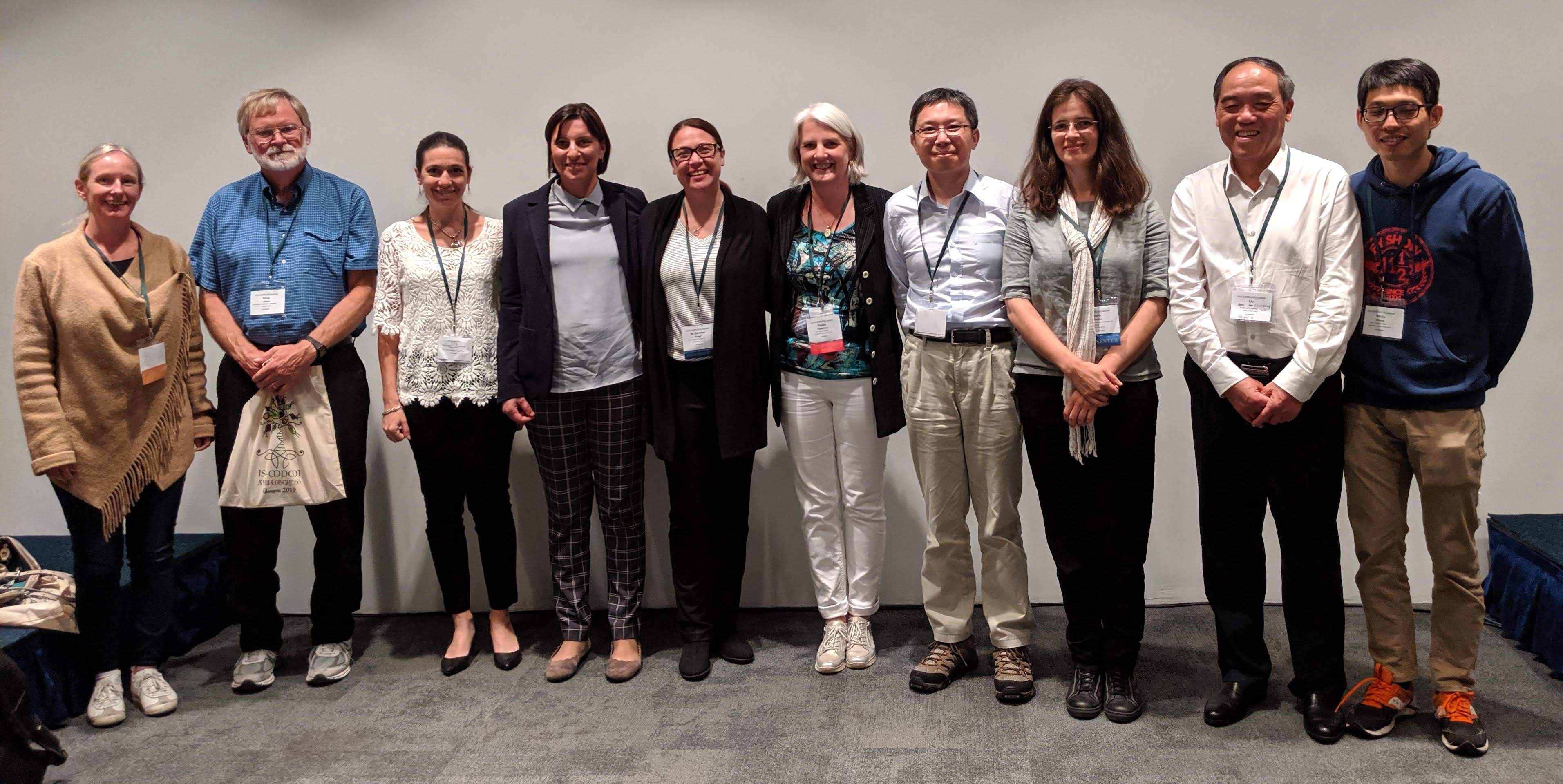 The organizers and speakers of the Satellite Meeting on the Dynamics and Mechanisms of Insect-Transmitted Pathogens.
[2019/07/13]

BRIGIT consortium meeting @ Edinburgh, UK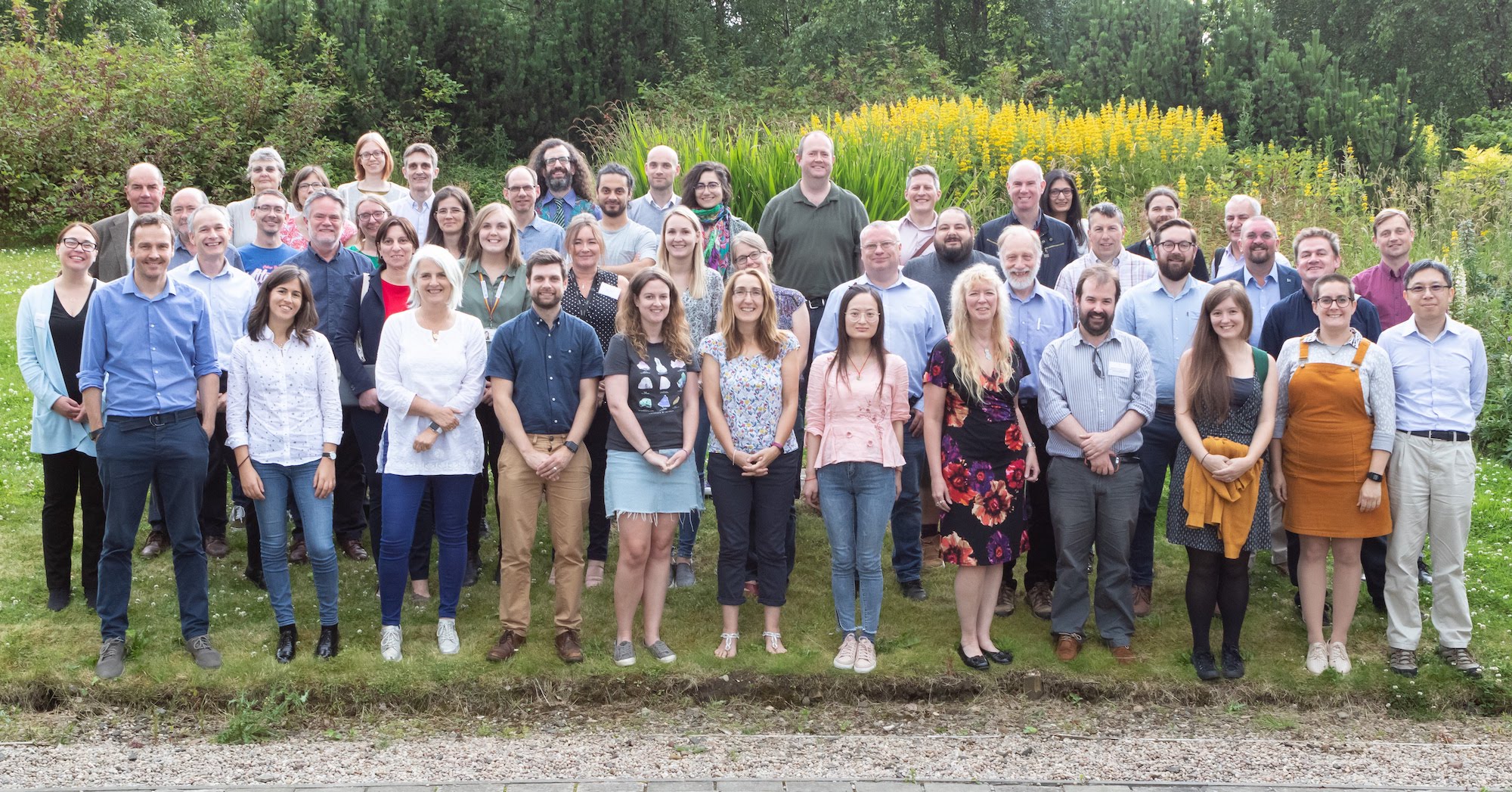 A meeting on Xylella fastidiosa research.
[2019/07/10]

John Innes Centre @ Norwich, UK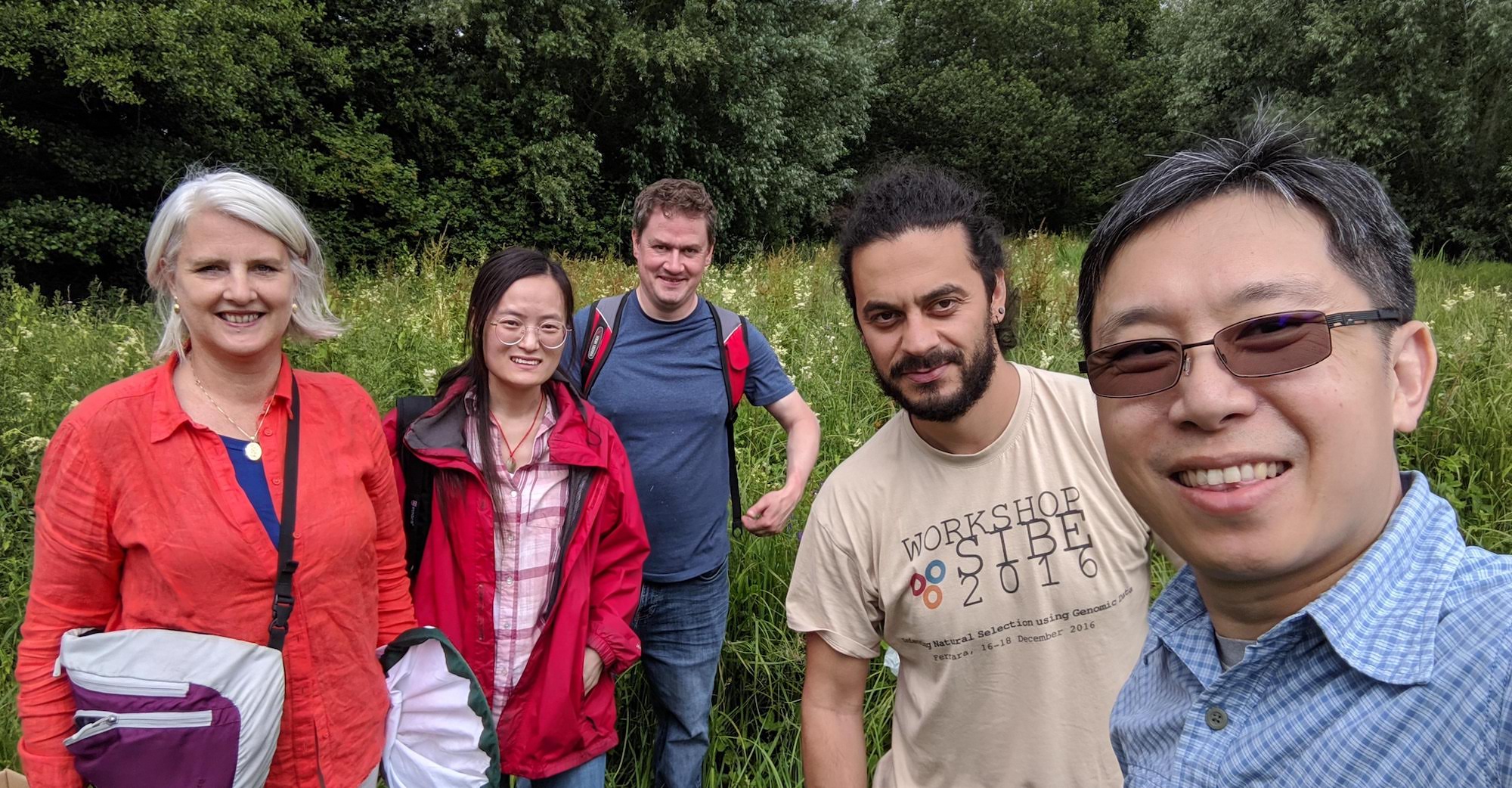 Chih-Horng Kuo (郭志鴻) visited our long-term collaborator Saskia Hogenhout. The team went out to collect spittlebug samples. With Qun Liu, Sam Mugford, and Roberto Biello.
[2019/06/24]

Group Photo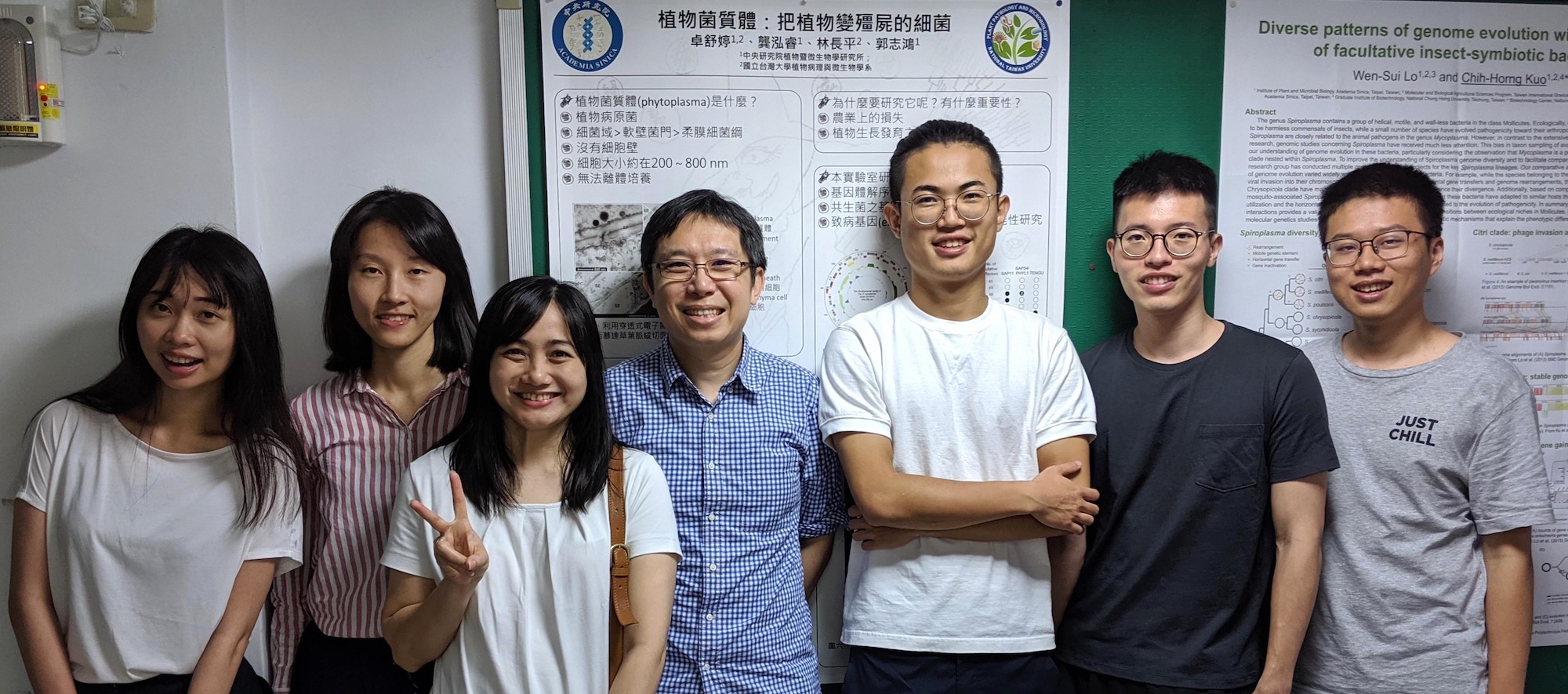 Mindi came back to visit the lab after she moved to Singapore.
[2019/06/04]

Lab Party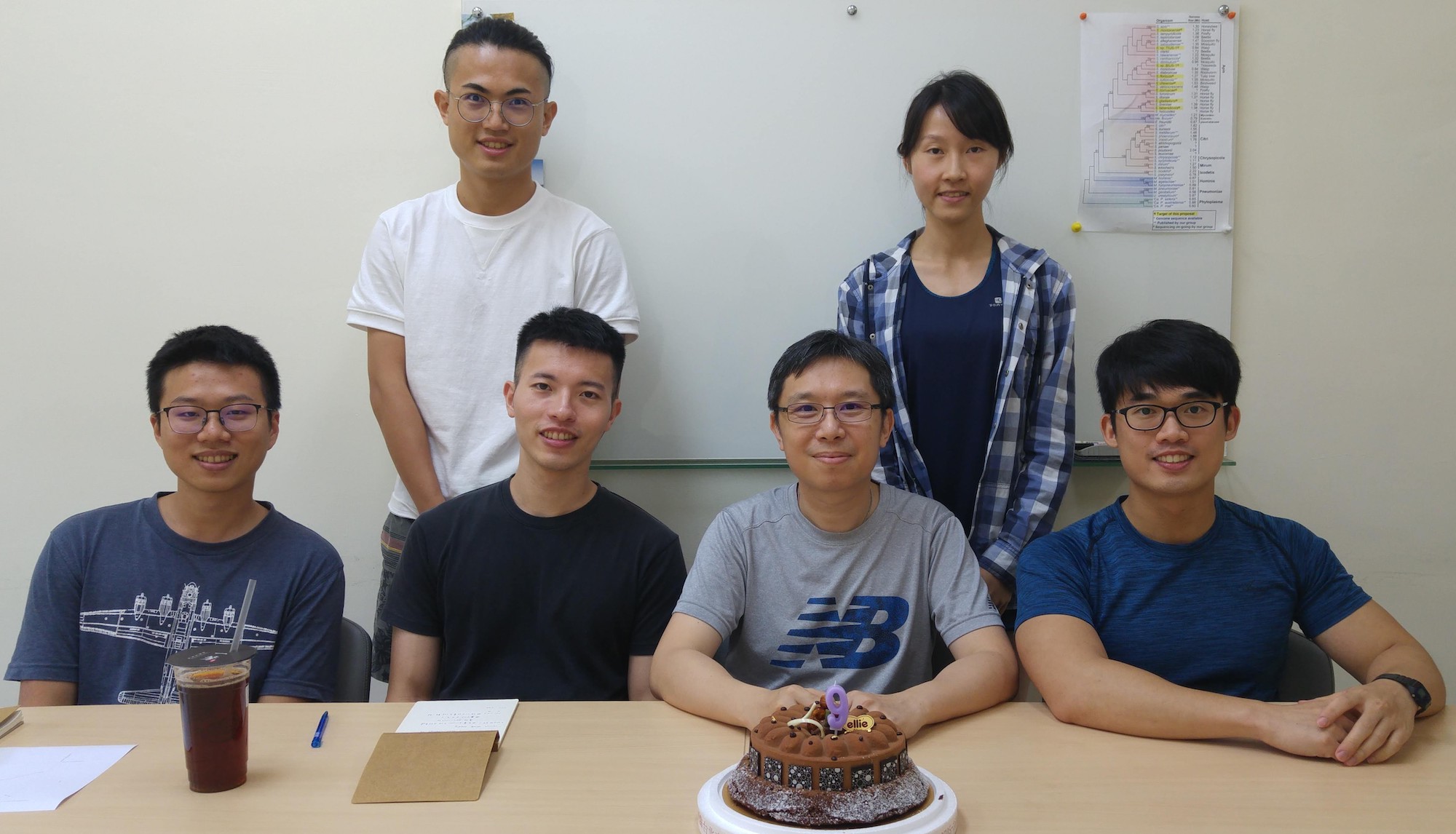 The lab celebrated our 9th anniversary.
[2019/05/04]

Lab Hiking