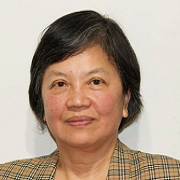 Chung, Mei-Chu (鍾美珠)
Emeriti Faculty
Ph.D., Agronomy, National Taiwan University (1988)
M.S., Agronomy, National Taiwan University (1980)
B.S., Agronomy, National Taiwan University (1978)
bomchung@gate.sinica.edu.tw
Molecular Cytogenetics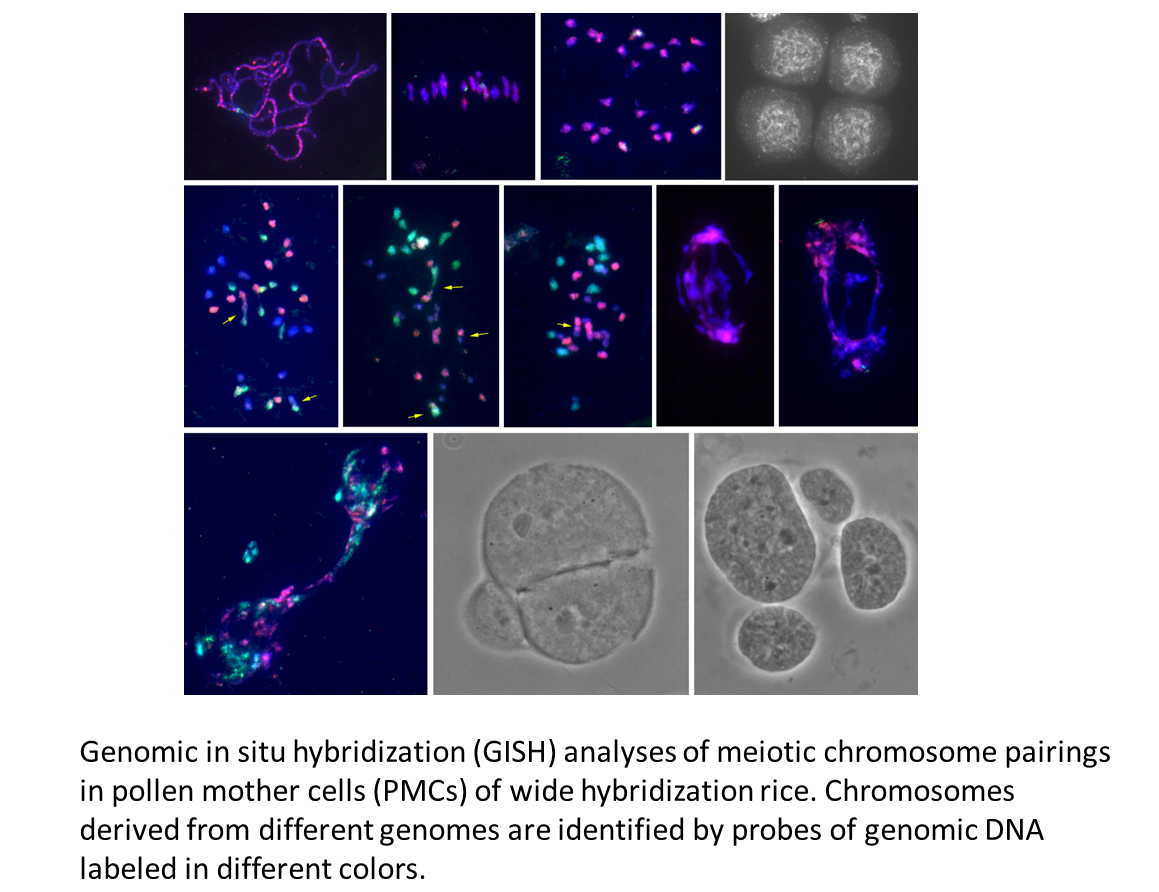 The genus Oryza contains 24 species, including two cultivated species and 22 wild species. Wild species of rice with many valuable agronomic traits are important genetic resources for improving cultivated rice by wide hybridization. The number and morphology of chromosomes are conserved in the genus of Oryza, while the number and the positions of 45S rDNA sites are various among Oryza species. The diversity of 45S rDNA sites imply the occurrence of amplification, deletion, and transposition in some particular 45S rDNA sites, as well as the inversion of chromosomal segment with 45S rDNA site during the evolution in the genus Oryza. O. australiensis (EE genome) and O. brachyantha (FF genome) are diploid with only one 45S rDNA locus at chromosome 9 which is a conserved 45S rDNA site in Oryza. Both are known phylogenetically distant and have extremely different genome sizes. The composition and organization of intergenic spacer (IGS) for 45 S rDNA of O. australiensis and O. brachyantha are different from other Oryza species. The diversity in 45S rDNA at molecular level also reveal different evolutionary stories of species in the genus. Chromosomes pairing is poor during meiosis in wide hybridization F1 pollen mother cells (PMC), in which high frequency of univalent and a few divalent or multivalent were observed. GISH results indicate those divalent and multivalent are autosyndesis and homeologous pairing. Abnormal pairing and uneven segregation cause chromosome unbalance in the meiotic end-products (pollens), which is responsible for the sterility of the wide hybridization F1. The chromosome pairing behaviors at meiosis indicate the relative affinities between the parental genomes of the hybrids, suggesting the possible occurrences of synapsis, crossover, and recombination between parental chromosomes. Such information is not only important to breeders but also to studies on the genomic organizations differentiating Oryza species.
Liu MS, Tseng SH, Tsai CC, Chen TC, Chung MC* (2021) Chromosomal variations of Lycoris species revealed by FISH with rDNAs and centromeric histone H3 variant associated DNAs. PLoS ONE 16(9): e0258028. https://doi.org/10.1371/journal.pone.0258028
Liu MS, Tseng SH, Chen TC, Chung MC* (2021) Visualizing meiotic chromosome pairing and segregation in interspecific hybrids of rice by genomic in situ hybridization (GISH). Rice Science 28 (1): 69-80. DOI: 10.1016/j.rsci.2020.11.008
Hsu CC, Chen SY, Lai PH, Hsiao YY, Tsai WC, Liu ZJ, Chung MC, Panaud O, Chen HH (2020) Identification of high-copy number long terminal repeat retrotransposons and their expansion in Phalaenopsis orchids. BMC Genomics (2020) 21:807. https://doi.org/10.1186/s12864-020-07221-6
Lee YI, Tseng YF, Lee YC, Chung MC* (2020) Chromosome constitution and nuclear DNA content of Phalaenopsis hybrids. Scientia Horticulturae 262: 109089. https://doi.org/10.1016/j.scienta.2019.109089
Lai PH, Huang LM, Pan ZJ, Jane WN, Chung MC, Chen WH, and Chen HH (2020) PeERF1, a SHINE-Like transcription factor, is involved in nanoridge development on lip epidermis of Phalaenopsis flowers. Front. Plant Sci. 10:1709. https://doi.org/10.3389/fpls.2019.01709
Ko SS, Liu YC, Chung MC, Shih MC, Mohammadmehdi H, Oguchi TC,* Watanabe KN, Yeh KW,** (2019) Environmental biosafety assessment on transgenic Oncidium orchid modified by RNA interference of Phytoene Synthase genes. Plant Biotechnology 36, 181–185. DOI: 10.5511/plantbiotechnology.19.0814a
Lee YI, Chen MC, Lin L, Chung MC*, Leu WM* (2018) Increased expression of 9-cis-epoxycarotenoid dioxygenase, PtNCED1, associated with inhibited seed germination in a terrestrial orchid, Phaius tankervilliae. Front. Plant Sci. 9:1043. doi: 10.3389/fpls.2018.01043
Chang LY, Li KT, Yang WJ, Chung MC, Chang JC, Chang MW (2018) Ploidy level and their relationship with vegetative traits of mulberry (Morus spp.) species in Taiwan. Scientia Horticulturae 235 (2018) 78–85
Lee YI, Chung MC, Kuo HC, Wang CN, Lee YC, Lin CY, Jiang H, Yeh CH (2017) The evolution of genome size and distinct distribution patterns of rDNA in Phalaenopsis (Orchidaceae). Bot J Linn Soc 185: 65–80.
Lee YI, Chung MC, Sydara K, Souliya O, Aphay SL (2017) Taxonomic placement of Paphiopedilum rungsuriyanum (Cypripedioideae; Orchidaceae) based on morphological, cytological and molecular analyses. Bot Stud 58:16
Lee YI, Chang FC, Chung MC (2016) Distinct distribution patterns of 45S rDNA and 5SrDNA-NTS-related repeats display diverse karyotypes in Paphiopedilum. In: Orchid Biotechnology III, WH Chen and HH Chen (eds.), New Jersey, World Scientific, 2016. Pp23-50.
Chung MC* (2015) Chromosome techniques and FISH. (eds.) In: Plant Microtechniques and Protocols, ECT Yeung et al., (eds.), Springer International Publishing Switzerland. pp. 287-309.
Lee YI, Chung MC (2015) Abscisic acid immunostaining. In: Plant Microtechniques and Protocols, ECT Yeung et al., (eds.), Springer International Publishing Switzerland. pp. 251-261.
Lee YI, Chung MC, Yeung E, Lee N (2015) Dynamic distribution and the role of abscisic acid during seed development of a lady's slipper orchid, Cypripedium formosanum. Annals of Botany 116: 403–411.
Lo KL, Wang LC, Chen J, Liu YC, Chung MC, Lo WS (2014) Transcriptional Consequence and Impaired Gametogenesis with High-Grade Aneuploidy in Arabidopsis thaliana. PLoS ONE 9: e114617.
Liu MC, Yang CS, Yeh Fl, Wei CH, Jane WN, Chung MC, Wang CS (2014) A novel lily anther-specific gene encodes adhesin-like proteins associated with exine formation during anther development. Journal of Experimental Botany. 65:2023-2037.
Chang YC, Shii CT, Lee YC, Chung MC* (2013) Diverse chromosome complements in the functional gametes of interspecific hybrids of MT- and A-karyotype Lycoris spp. Plant Systematics and Evolution. 299:1141–1155.
Fang SA, Eu TI, Chung MC* (2011) Isolation and characterization of genome-specific markers in Oryza species with the BB genome. Plant Science 181:300–308
Lee YI, Chang FC, Chung MC* (2011) Chromosome paring affinities in interspecific hybrids reflecting the phylogenetic distances among the lady's slipper orchids. Annals of Botany 108:113–121.